This Free Time Tracking Software Can Be Your Moneymaker!
March 17, 2017
by Jakub Szyszka
No comments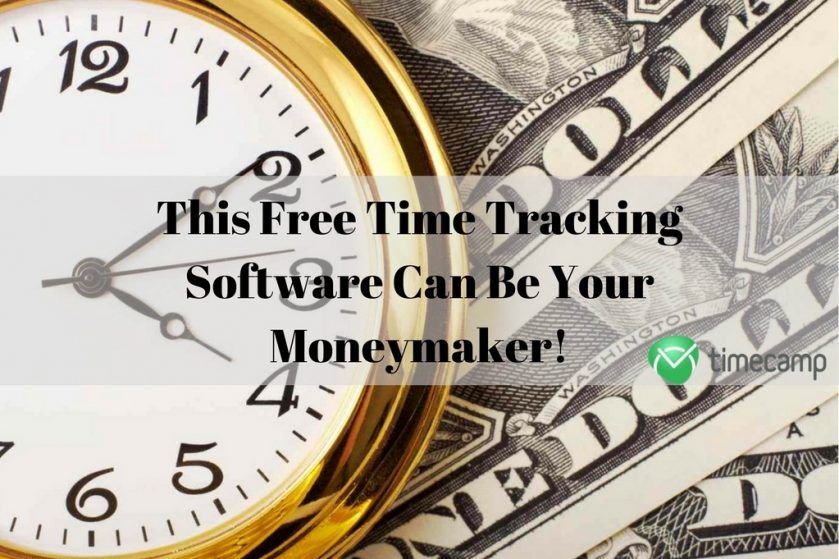 We never get tired of presenting to you the time tracking software! That is because we really care about your productivity and efficiency at work =] Today, we will describe a few apps that you can use for free. We are going to focus on those that are available completely off charge, but there may also be some that offer a long trial period (and are very cheap). Enjoy!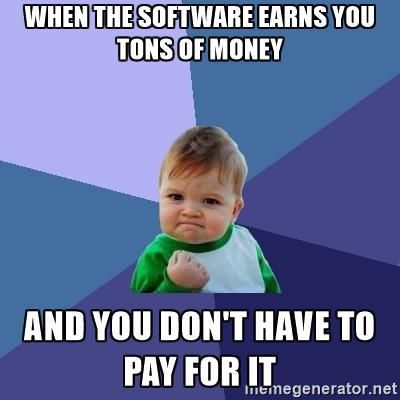 TimeCamp is modern software designed for monitoring and optimizing the efficiency of one's work. This tool measures the time spent on computer activities. Then it categorizes these activities into productive ones and those not related to the tasks that the user should be focusing on. It can be used both in the case of stationary work in the company and by the remotely working employees.
The use of TimeCamp can help you boost your efficiency and productivity. You can add as many tasks as you want to the interface and choose one whenever you feel like doing it or leave it to the intelligent system that assigns tasks by keywords. TimeCamp will track the time of your activity and you will receive a detailed graph from which you will learn what you or the member of your team were doing, how much time did it take, and what "distractions" got in the way, which is a great method to eliminate them once and for all.
Here are some examples of what TimeCamp can do:
Comes with a wide range of platforms. The tool is available for Desktop (Windows, Mac, and Linux), and has native mobile apps available for iOS and Android to help users track their time regardless of location.
Automatically records time usage of each application running on your computer.
Monitors the time devoted to individual documents.
Easy budgeting – budgeting function lets you estimate how much time the implementation of individual projects will take, and thus effectively plan the use of human resources and make a valuation of future similar projects.
Integration with popular project management software such as Trello, Asana, Podio, Pivotal Tracker, Jira.
Measures the working time by particular categories.
Records the time spent away from a computer – detects when user ceased to be active and for how long it lasted.
Automatic time tracking based on keywords which allows you to switch between tasks without any effort.
Accurately bill your customers.
Turn time entries into invoices basing on estimated hourly rates.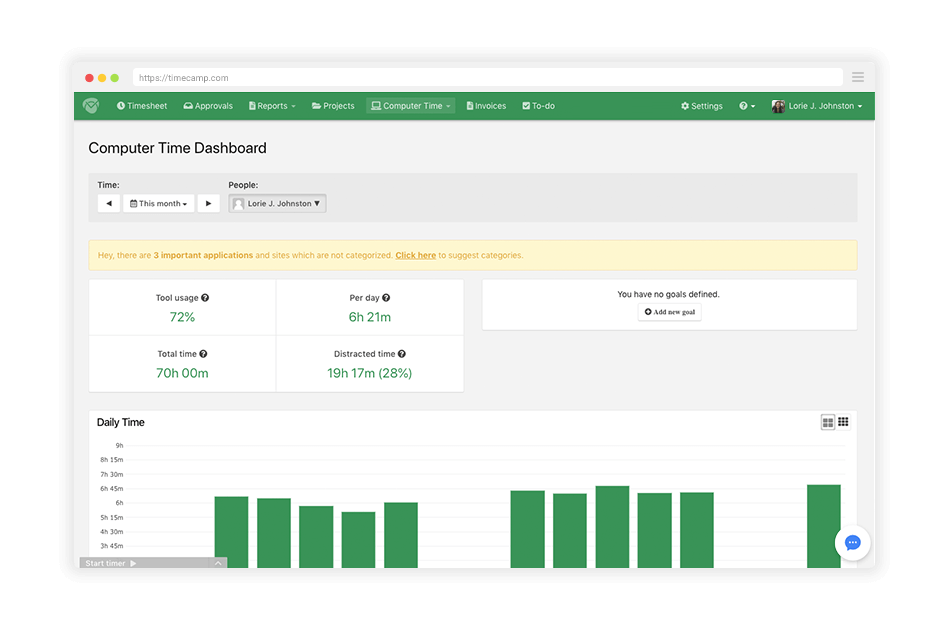 RescueTime is a web-based management and analytics tool designed to enhance one's efficiency and productivity. It gathers the data and offers a detailed statistics to the users, so they can plan their daily tasks more effectively.
RescueTime runs in the background of a computer or mobile device, tracking time spent on applications and websites. Users can set alerts to have a better control over their time, block distracting websites and check what they have managed to accomplish during the day.
The free version of this software offers only basic features but it still should be helpful in managing our work.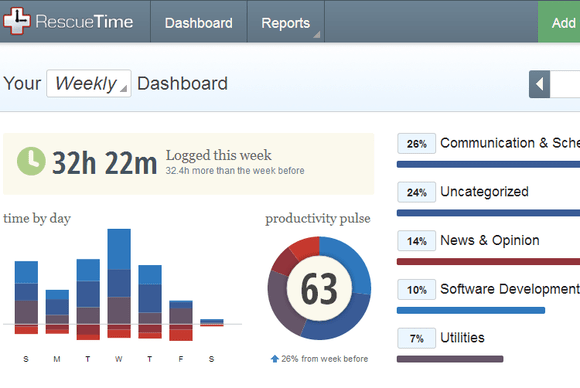 Timr is a simple and comprehensive time tracking tool that was designed to adapt to one's needs. You can use it online or download the application. It will track your tasks and projects with ease from any place and at any chosen moment.
You can use Timr to define what is being tracked, so you do not have to worry about the attendance and absences – like computer time off, vacation or sick leave. Timr allows you to define the task structure appropriate for your company and, thanks to it, optimally track the time dedicated to your project.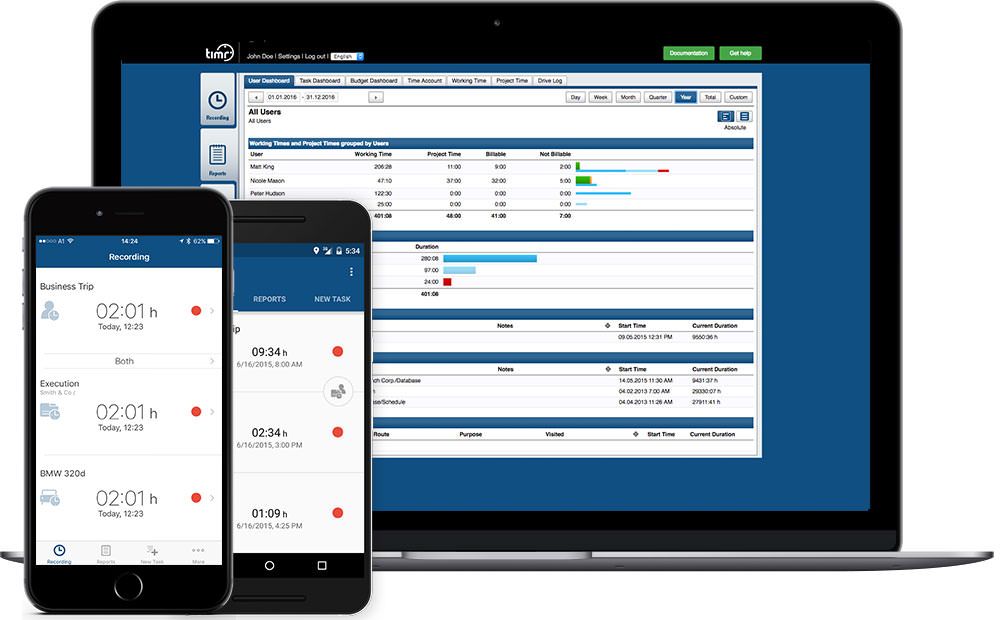 Time tracking software that offers detailed reports, stopwatch, and mobile apps among others.   Basing on the time tracked, you can create bills, add hourly rates to the project, clients, tasks, etc. It has an easy-to-use attendance tracker that tracks your working time and automatic timesheets that you can export and email, real-time overview of your and your team's work, and the daily, weekly or monthly overview of your co-workers' time. Free for 3 users.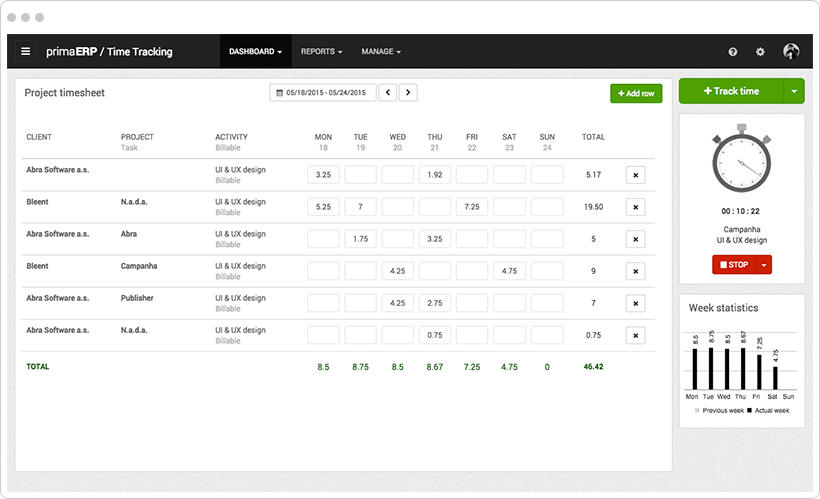 Yanomo is a multilingual time & expense tracking tool used by various businesses, from law firms to design agencies and startups. It offers options that facilitate team communication, task management, and project management.
It provides accurate and up-to-date reports and calendar-based time tracking. A long free trial (47 days) gives you the opportunity to try out all the necessary features and decide is this is the right choice for you. See if it will help you with your needs for efficient project management, task management, expense & invoice management, and team communication.