Track Your Time in Jira for Smooth Work!
Time and work management are crucial for every company. If an organization is structured and managed properly, the daily procedures are appropriately performed, smooth, and everybody knows their place and role in the company. Jira helps to take care of these of a team and work management aspects with features allowing to keep everything in one place
Jira is an issue management tool. It helps to manage and maintain a list of them. It's helpful in solving company's problems with different projects. Jira gathers the data on what the issue is about, and you can efficiently manage all aspect related to it, for example:
distribute tasks to different people,
assign tickets to experts on a particular issue,
prioritize the most urgent issues,
have a real-time perspective on your team's work.
Jira integration with TimeCamp enables you to assess time for projects and issues you are working on. In TimeCamp you can define unique keywords to your Jira tasks. Then TimeCamp can automatically switch between them when keywords occur in window's title. Moreover, the tool will automatically import all your projects and tasks so you can start working immediately without switching between apps.
Integration Tutorial
Integrating Jira with TimeCamp is really simple and takes only 4 quick steps:
1. You need to go to Jira marketplace and find "TimeCamp Time Tracking" app. Simply search for 'timecamp' and click on the results. You can also use this direct link. Click "get it" button.
2. Install the plugin from your Jira account (you will be redirected to it). Confirm the installation by clicking on the Accept & Install button.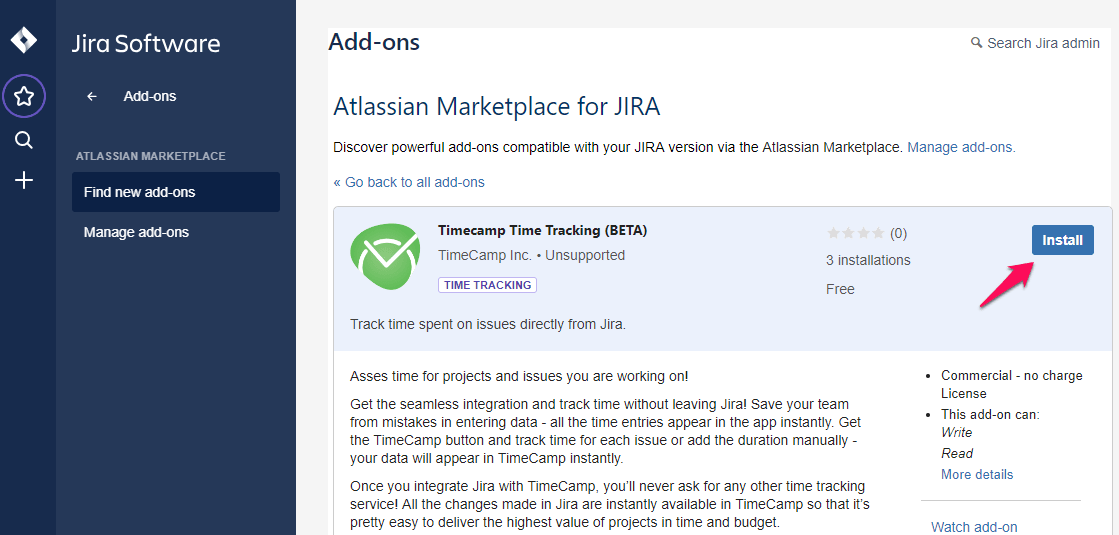 3. After the installation is completed, you can navigate to your desired Story to start tracking time. While using it for the first time, you might need to run some additional configuration. Open the item you wish to track time on and click on the Open Timecamp Time Tracking link.
Don't forget to log into your TimeCamp account.
4. Jira will automatically connect to the account you're logged in on TimeCamp. If you haven't created the integration within TimeCamp yet, you'll be asked to do so at this point. 
Once the installation is completed and the integration enabled, you'll be able to add time to a task manually or start a timer within Jira.
Your Jira plugin and TimeCamp timesheets will synchronize in a real time.
As simple as that!

Related posts