Have you ever used a board to remember all your ideas and tasks? Well, it needs some space to hang it and one board sometimes is not enough. Trello is an online tool that replaces traditional notes on your wall. It collects required supplies and lets you keep an eye on the big picture. It's a great project management software for individuals and teams.
We are very happy to announce integration with this great tool.
How to use it? It is very easy. Trello organizes your projects and ideas into online boards. You simply need to look at your screen to see what you are working on and what you are planning to do. It can be anything – from your shopping list or vacation  plan to the launch of a new product or campaign.
A board is the biggest unit. Each board is built of lists which can be considered tasks. The lists contain cards – these are our tasks, subtasks and ideas. You decide the structure of your Trello.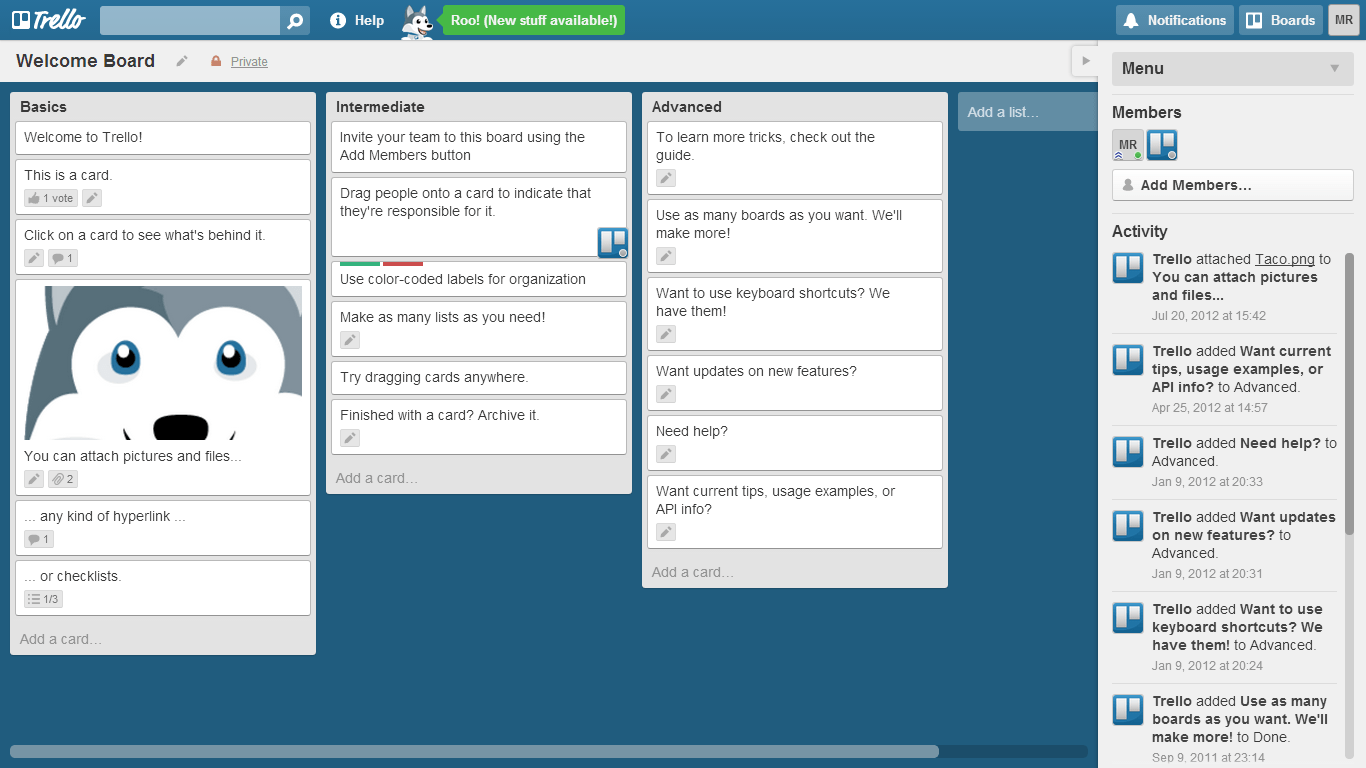 Integration with TimeCamp enables you to count up the time spent on each task or subtask. All of the categories from your boards will be automatically imported from Trello so you can add the hours in your timesheet. For example, it can help you plan your further work, accurately invoice your customers, or even estimate the profitability of the project.
To check out the integration, follow the steps below:
1. Log in to TimeCamp
2. Go to Settings – Add-ons & Integrations
3. Select the Trello option from the menu and click on the "Enable the integration" button.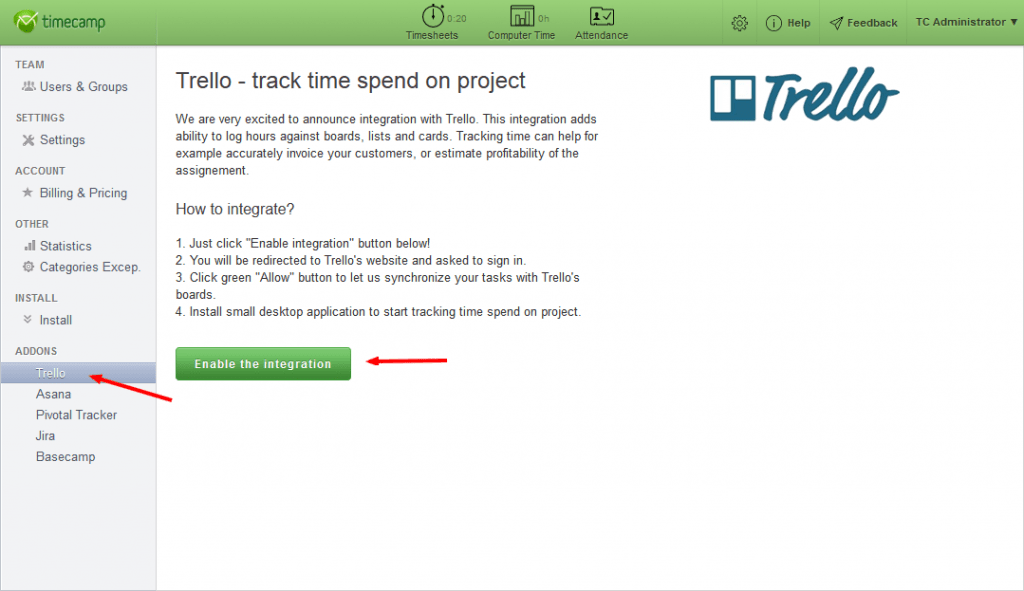 4. You will be redirected to Trello (it is advised to be looged into Trello already) and asked for a confirmation to enable the integration. Click the green "Allow" button.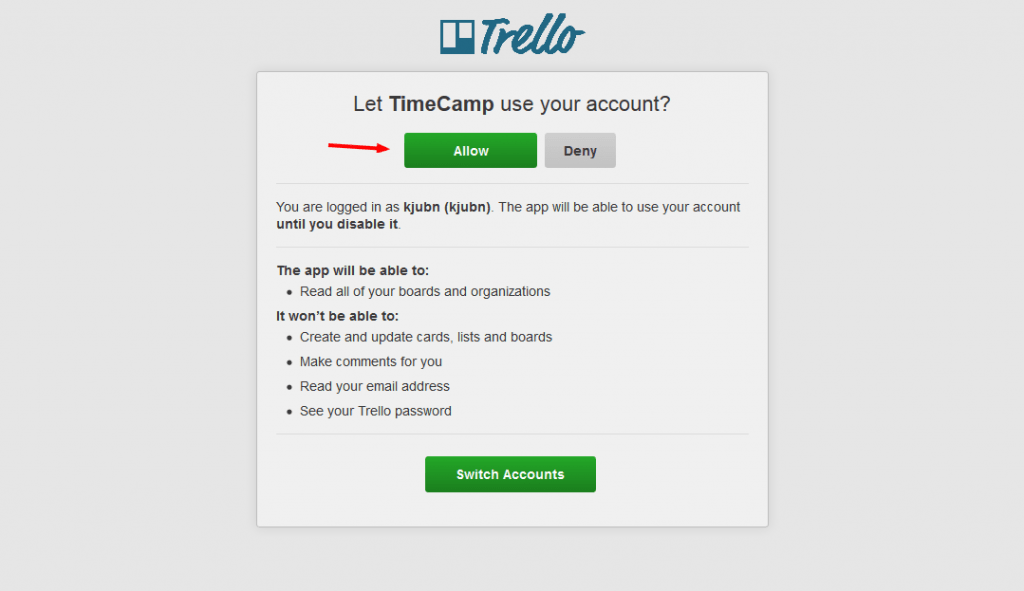 5. Next you'll be redirected back to TimeCamp. Decide which boards you want to account in TimeCamp. Check them and click the "Synchronize now" button.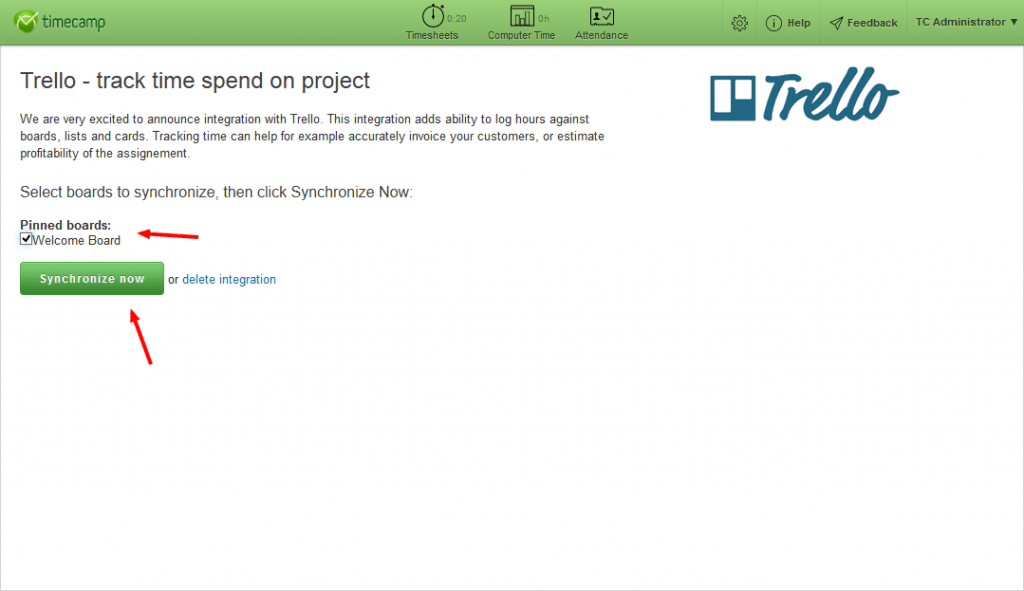 6. After few seconds you'll be redirected to Timesheets. Go to Project Management page. Note that selected boards are already there, under the main project simply called "Trello". Boards are organized as subtasks for this project. Each list is created as a subtask of the board, and each card as a subtask of the list.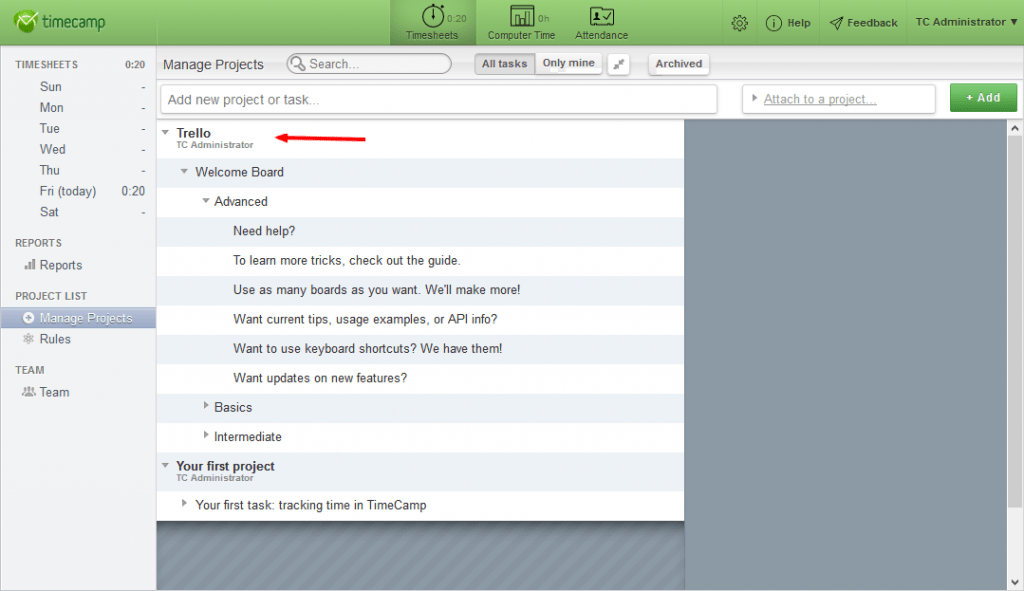 Now you can go to your TimeCamp timesheet and start tracking time for the desired card manually (from TimeCamp website level) or automatically, by installing TimeCamp application and assigning keywords to the desired card.
But that's not all! You can effectively measure time spent on tasks allocated to Trello cards with the TimeCamp + Trello Power-Up to increase your productivity. Make sure to check it out and always stay on top of your work!