Automatic Time Tracking in Excel Spreadsheet
December 22, 2022
by Kate Borucka
No comments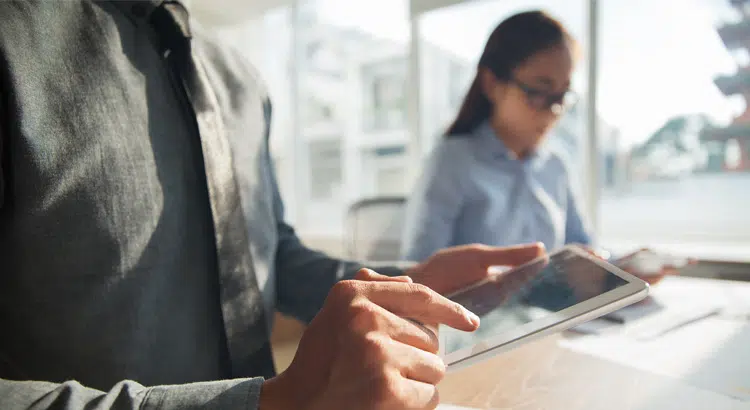 Excel is ubiquitous – the "How to track hours in Excel" phrase is still high in Google search results. Some hate it; others love it. Many people use it either for work or for personal needs. It's (relatively) easy to use and practical. Numerous companies, organizations, and even individuals adopt it as a system of tracking work hours and attendance management – the ultimate time tracking app.
Find out how to track time in an Excel spreadsheet and what to do to make it less painful!
But we still think that using TimeCamp is more effective than the best time tracking spreadsheet. 😉 
Why Do Companies Still Track Work Hours in Excel Timesheet Templates?
Excel time tracking sheet is still extremely popular, especially among older executives and project managers. Nothing strange about it – Excel time tracking templates probably replaced the old paper timesheets, they had used them for years and still treat them as the easiest way to track hours worked for specific projects.
To track regular hours and overtime hours, they just need a daily timesheet template, weekly timesheet, or monthly timesheet template. It usually includes sick time, holiday hours, or lunch breaks and it's enough for calculating employee time on a monthly basis.
👉  However, such outdated methods of calculating total hours worked, like time tracking spreadsheets are highly associated with the risk of human error that can cost both company and their multiple employees not only money but mutual trust as well.
Not to mention an excel timesheet serve only for simple employee time tracking; while it's practically useless for other purposes like project time tracking or task tracking, you can hardly track billable hours with them as well.
Despite its ineffectiveness, time tracking excel spreadsheet will still be popular for time reporting and data validation.
Why You Should Implement Automatic Time Tracking to Your Excel spreadsheet
Tracking employee time with the use of Excel seems somewhat outdated. In the era of advanced technology and convenient tools for time management, every project manager should know that the use of spreadsheets alone is not as efficient. That is because it's a tedious process.
This form of manual time tracking may even be risky. However, some spreadsheet tools, such as Google Sheets, may expand your time-tracking capabilities. It lets you get real-time data, XML, HTML, and even import JSON to Google Sheets for your needs.
Take a look at the list of drawbacks of manual time tracking in Excel spreadsheet:
Employees often forget to enter how much time they spent on work and their time entries are inaccurate
The estimates relating to budget and attendance may be imprecise
It's easy to make mistakes in the entries
When working in a team on multiple projects it may be difficult to track time against all projects
It's difficult to keep a hand on all the timesheets submitted monthly by every single employee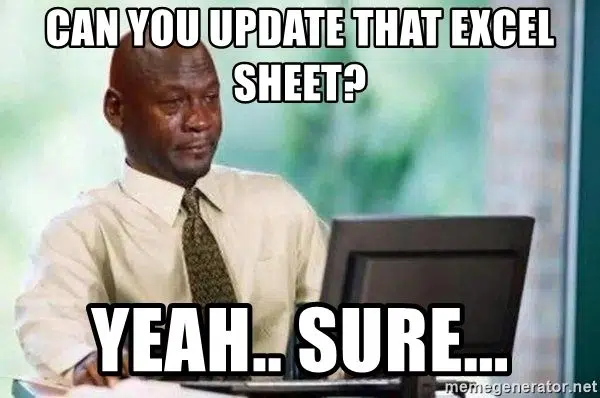 Source: https://memegenerator.net
To avoid the confusion related to time tracking spreadsheet, you should implement an automatic time tracking app, which will immensely improve your work. Your team will no longer have to enter all the numbers manually, their productivity will reach the highest levels, and you will make time tracking in your company easy, smooth, and effortless!
A fantastic example is implementing TimeCamp into Widzialni.pl, a very popular Polish SEO/SEM agency that carried out campaigns for customers like NOKIA or SKODA.
The automated time tracking tool turned out to be a perfect solution – thanks to automatic reporting the managers can easily follow the team's progress and stay up to date with all the relevant information. Employees are able to track and analyze their activities across all apps, websites, and devices, and always have a clear view of which task or projects are most time-consuming or difficult. The company can also measure the credibility of its users.
 Read the customer stories to find out how our clients improved team performance and project management with TimeCamp's 100% free time tracker.
The Benefits of Automatic Time Tracking When Using Excel
Many case studies show that TimeCamp turned out to be a great solution for companies who were looking for easy-to-implement time reporting tools that would help in managing teams and project budgeting. That is not always possible when tracking employee hours in Excel spreadsheets.
 Check out how TimeCamp works! 
TimeCamp has many practical features that can help in monotonous work. What's more, automatic time tracker may even completely eliminate monotonous work in Excel:
Fully automatic, the desktop app works in the background, not disturbing your work. Also, you don't have to switch between different apps or tasks; TimeCamp detects it all
The feature of logging time based on billable or non-billable hours makes it easy to estimate the costs of a project precisely
Thanks to detailed but comprehensive reports, your employees can see how much of their time was spent on productive and unproductive activities and apps
easily convert your reports into Excel files – just as if you were using time tracking in an Excel spreadsheet!
The dashboard shows all important data – projects, tasks and all the things people spent time working on, budget, hours tracked, activities, clients, and more
With an extensive list of integrations work becomes smooth and painless
Simple, one-click time tracker
Invoicing and budgeting allow you to stay on track, save money, and avoid tedious calculations in Excel spreadsheets
TimeCamp is available as a desktop, mobile, and web app – accessible at any place in the world
Using TimeCamp is much more effective and easier than tracking work hours in an Excel spreadsheet.
Also, using TimeCamp as time tracking app and Excel alternative helps to monitor time logs, automate and optimize work, and significantly improve productivity. 
Tired of manually filling out Excel timesheets?
Sign up for TimeCamp and start saving time today!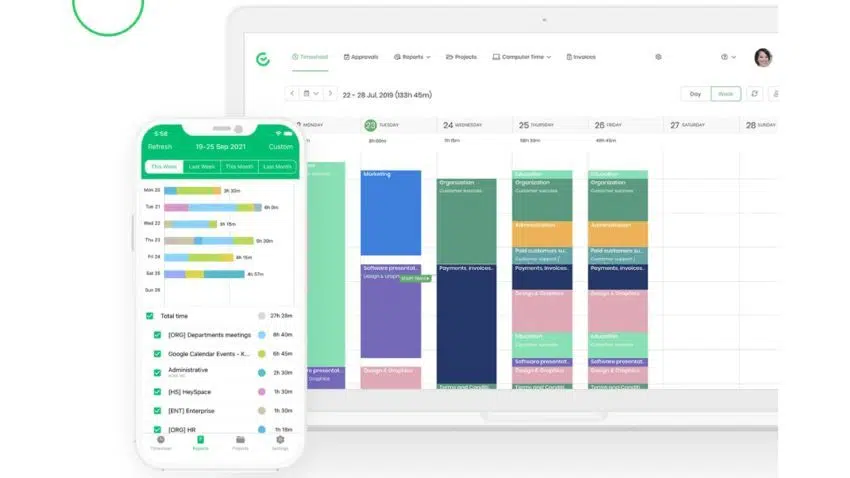 How to Use Automatic Time Tracking With Excel?
There is no philosophy behind automatic time tracking with the use of Excel. It's as easy as pie. In fact, you don't even have to do anything besides logging your hours with automated, one-click timer.
Then, you can simply export your timesheet with just one click, share it with your team, clients, or simply keep it to yourself to monitor your workflow.
You can also use the feature of manually logging hours to adjust timesheets.
And if you prefer, you can still use Excel to calculate for you the time spent on work. However, beware of the small inaccuracies. ? Small errors may contribute to large losses.
How to Make Sure You're Implementing the Right Excel Time Tracking App?
Time tracking market offers plenty of time tracking apps. Although similar, they offer various features and have slight differences that may be crucial to the successful usage of the app. To make sure you're implementing the right tool to track time in Excel spreadsheets, you need to answer 4 key questions.
❔ Why do you want to implement the time tracking app?
You have to know the ultimate goal of why you want to implement time tracking tool. Is it because you need to monitor the hours and budget your employees spend? Or maybe because the app has a modern interface and looks like an interesting addition to the tools your team already uses?
Using a time tracking app without a specific purpose is never a good idea and may bring more harm than good.
❔ How will the time tracker help your business?
It's a good idea to consider the pros and cons of using a time tracker for a well-thought-out decision.
It's worth signing up for the free trial and checking all the pro features before you decide to buy the software. It may turn out the app is inappropriate, or tracking time in Excel is enough for your business.
❔ Does it support Excel?
Not every time tracking app is compatible with Excel. If you want to depend on Excel time tracking, you need to make sure you can work smoothly by integrating the two tools.
A good time tracker will allow you to export timesheets into Excel file format, edit the spreadsheet and share it from the level of the application so your team, clients, or stakeholders can easily view the data.
❔ Does it correspond to your business needs?
It may not be easy to find the best option among all the time tracking apps. So you need to make sure it aligns with your business strategy and company culture:
Do you prefer an online time tracking app or a desktop app?

Is the software good for freelancers or does it work better for teams?

What are the features?

To what extent can you maneuver in the app?

What pricing plan does it offer?

Does it help tracking overtime hours?
These are all important aspects you need to consider. After all, you don't want to spend a lot of money on a robust time tracking app and then just go back to logging time in Excel because you don't like the app.
Improve Your Business with Automatic Time Tracking
Of course, you don't have to get rid entirely of Excel spreadsheets when using time tracking software! A good idea so to combine timesheets with an automatic time tracking app. It will help grow your business by saving money and improve employee productivity.
Check out TimeCamp's Excel templates and get them for free!
You can find a number of timesheet templates for Excel depending on what profession you work in and what you need to have in your timesheet. Some are better for your personal use, while others are to share them with clients.
Conclusion
Tracking time is essential when running a business. Particularly if you want to save time and money. Using Excel is still one of the most popular ways to track time spent on daily assignments. But it's not always effective. Having a timer that automatically logs time for you is convenient. And it lets you make the most out of your time. Not to mention all the costs are calculated automatically, so the client billing is just much easier.
How do you calculate total hours of work – manual data entry in Excel timesheets or tracking time with the use of time tracking solutions? 
Let us know your thoughts!