15 Best Goal Tracking Apps to help you keep up with!
February 3, 2023
by Magdalena Wysocka
No comments
Goal tracking apps are online platforms used by teams of all sizes as well as individual users to monitor work progress and be motivated by its results. Teresa Amabile, a Harvard professor, believes that the most effective method of motivation is to focus on 'small wins'. A sense of progress in efforts is a constant motivator that can be easily sustained by the application.‍
Why use goal tracking apps?
There are many advantages of using a goal tracking app. In addition to taking the burden of constant planning, keeping an eye on these plans, and just being around, it's worth noting that the apps help with things like:
motivating in achieving goals. Thanks to constant insight into your progress, you know at what stage of work or change of your habits you are. You can see the path you have already traveled, how much you have achieved, and feel the satisfaction that comes from it, especially when it's visualized by progress bars.
planning your time, developing an action plan with details such as dates and participants. The most difficult thing is to start because often the excess of work or information can be overwhelming – at this point an application that will organize and indicate specific paths is invaluable.
increasing productivity. When you have a plan, you know exactly how much progress you have done, what steps lie ahead, and when to take them. You do not focus on irrelevant tasks, you devote your attention only to what is most necessary.
clear communication. There is nothing worse than being misunderstood by a lack of or poorly conducted conversation. The applications allow insight for all involved users, so you know what your responsibilities are, but you also know the tasks of your teammates. When everyone is informed, the likelihood of misunderstandings and conflicts is minimized.
getting constant feedback and support from the team or community. Thanks to the transparency of the applications, especially mobile apps, you will notice that your colleague is not dealing with something, needs consultation, or has free time and can help you. At the same time, you know at what stage the work is and when it will require your opinion.
What are the best goal tracking apps?
There are many applications available online and it is up to your needs what is most appropriate for you. You can choose from more or less advanced, typically designed to work with a laptop or computer, but also from specially dedicated mobile applications that can be always at hand.
However, there are several aspects that you should pay attention to make your work not only comfortable but also effective and enjoyable:
free trial or freemium plan allows you to test the application before you put money into it,
a user-friendly interface will enable you to implement quickly, shorten the learning time and result in real satisfaction for you and your team,
functionality is especially important as none of us want any of the features to cause problems.
To help you choose the best goal tracking apps, we've made a list. Don't wait, find the perfect platform for you now!
TimeCamp Planner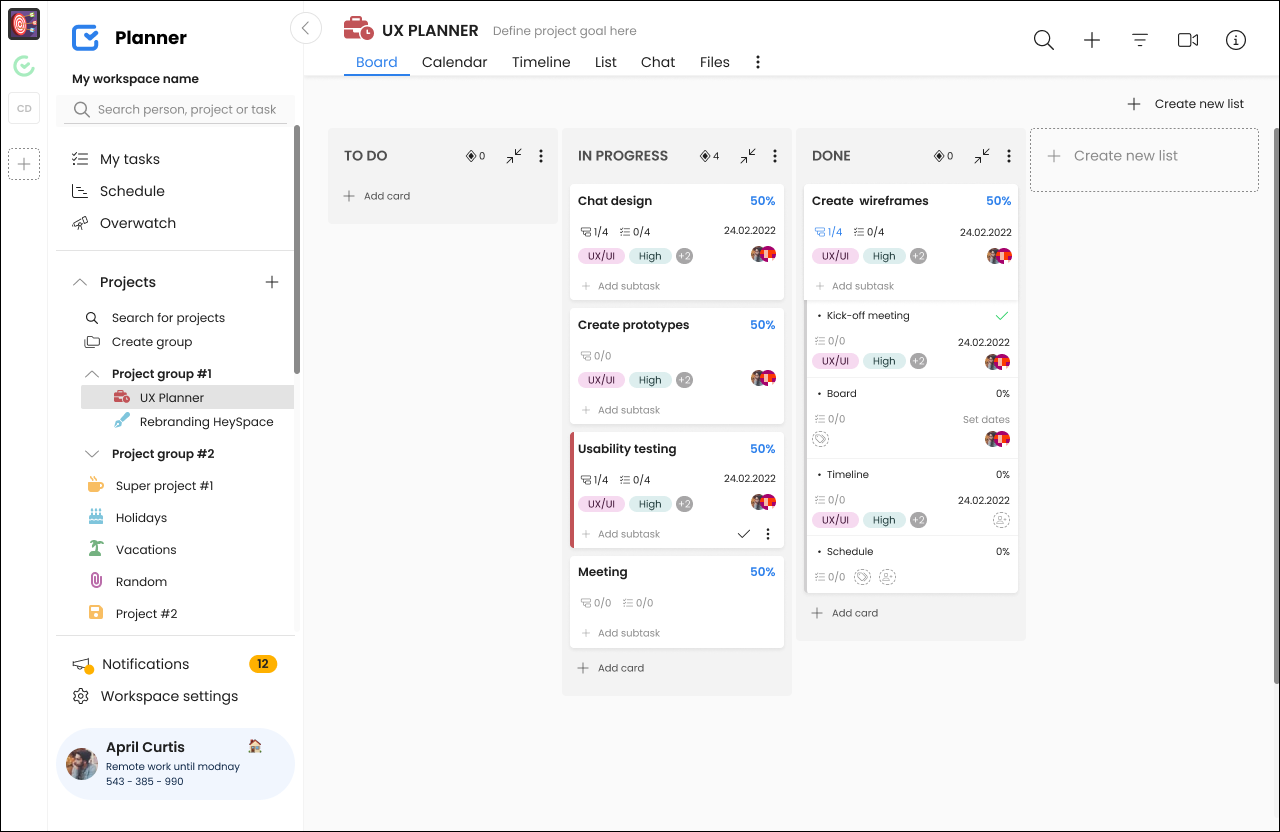 TimeCamp Planner is a goal tracking app for everyone. It has many features, which are a combination of Trello and Slack functions. Thanks to its user-friendly interface and functionality, it is an ideal tool for communicating with team members, assigning tasks, goal tracking, and checking their progress. It allows you to create boards with tasks that you can describe in detail, add a checklist and users. Everything that happens is visible on the timeline and calendar, so you never miss your tasks. TimeCamp Planner in the free version is ideal for individuals and small teams, but the premium version is better for more demanding projects and bigger teams. Available on desktop and mobiles – both Android and iOS.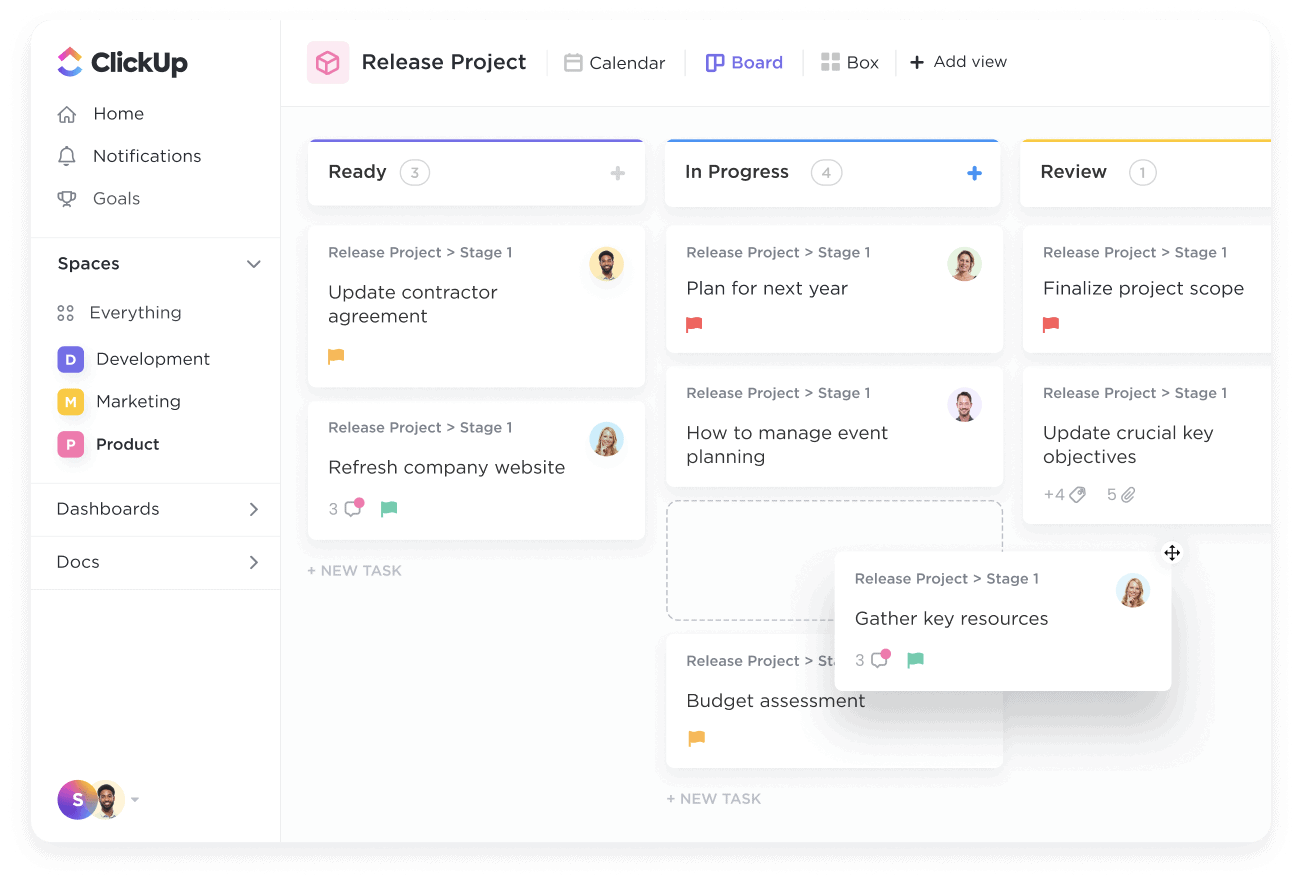 ClickUp is one of the best free goal tracking apps, because of the key features it has. You can easily set goals and improve your productivity, get rid of bad habits, change your routine tasks and realize your personal goals. The app lets you make tasks, targets and organize them in folders. Thanks to the weekly scorecards your colleagues see what you are currently working on, the dashboard visualizes reports and statistics, the mobile app allows you to keep up with everything without concern of forgetting. ClickUp has a free and paid plan and can be used on the web and mobiles.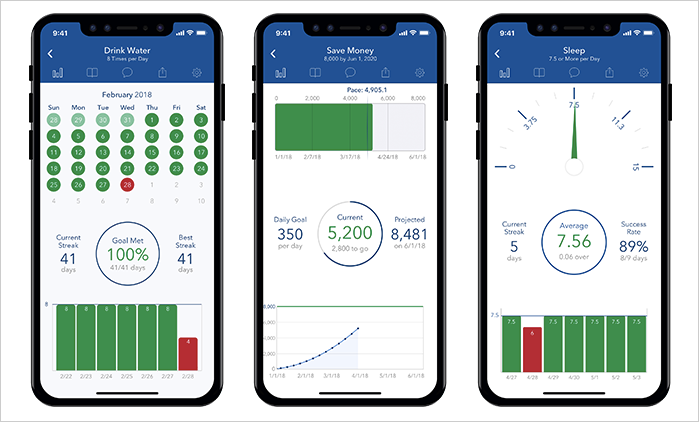 Strides is the next very efficient goal tracking app, which shows your daily progress, sets goals, and tracks your bad and good habits. Key features of Strides are easy to use – dashboards to see your goal, tracker template, progress reports, and own milestones, seen on the calendar. This tracking app is very flexible because you can fit it to tasks you need – no matter if it's business goals in the job, your private life, or tasks at school. You have an uninterrupted stream of motivation, in the free version or paid plan, available on mobiles.
‍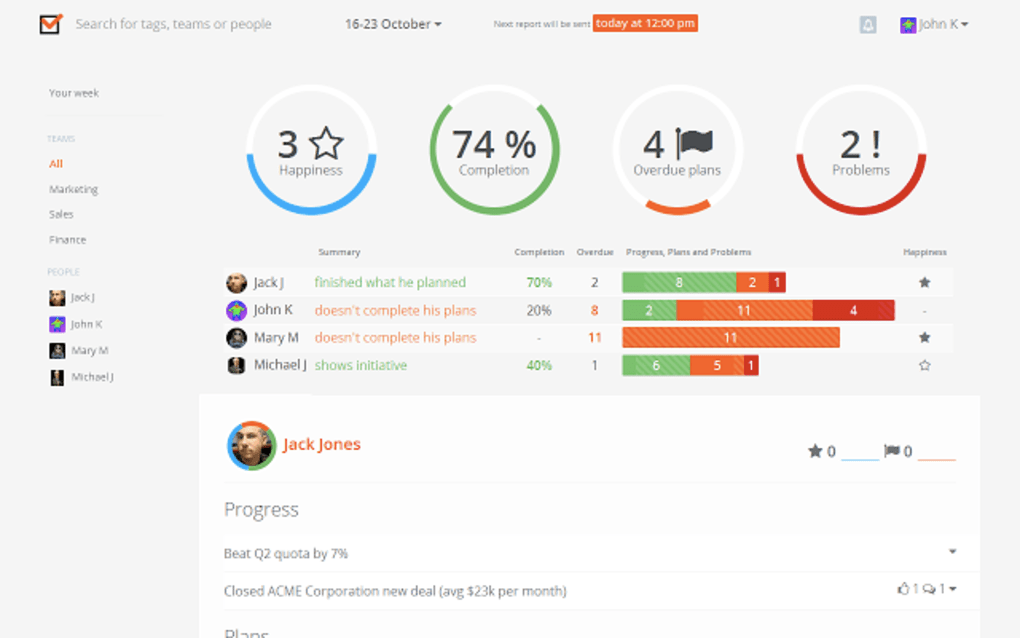 Weekdone is goal setting app, which is also a boosting productivity tool. The most important features like goal tracking or weekly check-ins are made by OKR (Objectives and Key Results) practices. It helps to see how the team is developing; running reports to track progress, and set new goals – everything is always visible, so your team moves in the unequivocal direction. Prioritizing, tracking, and grouping  OKRs is available on iOS, Web, and Android.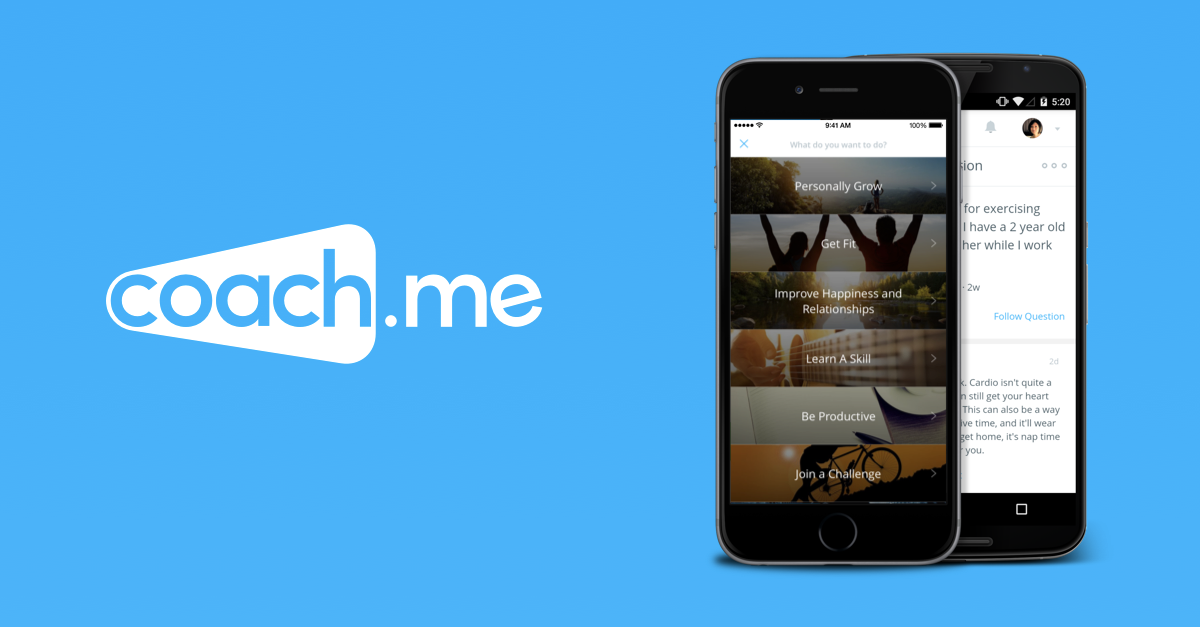 Coach.me is a goal tracking app that works differently than the above-mentioned apps. Why? Because it is your personal coach, which helps you to track habits – these good and bad ones. This is an unusual habit tracking app, showing how much progress you did, reminding your tasks and activities to do, and finally celebrating the success. Coach.me is based on a kind of reward system – you achieve goals, you get props from friends and support from the community. The app is available for iPhone, Android, and Web.‍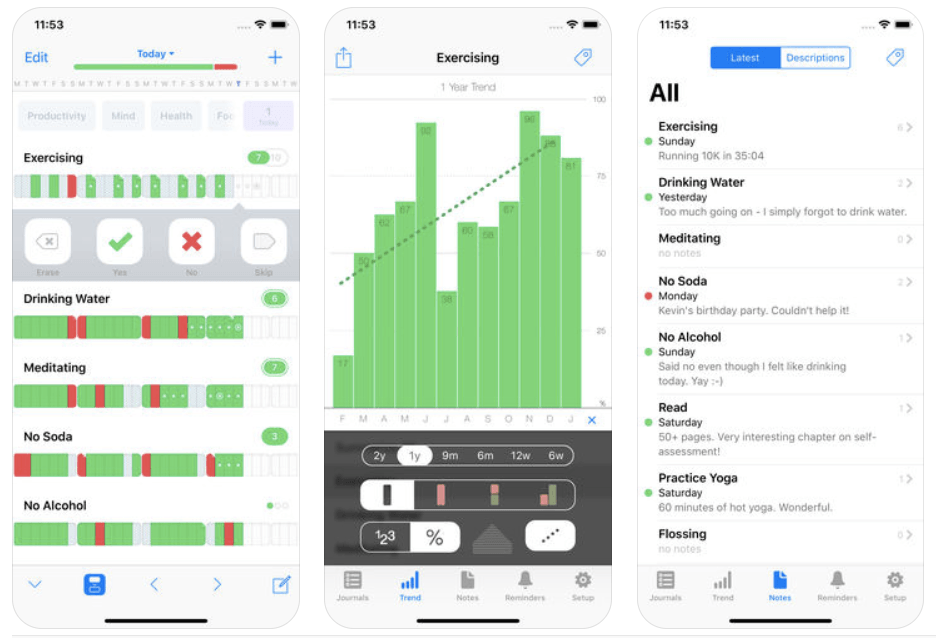 Way of Life is the next habit tracking app, which helps change bad habits. It is a beautiful and intuitive tracker with many features. You can make a chain – challenge yourself, set a reminder with flexible scheduling, choose a theme, describe habits with tags, get weekly or monthly feedback and even export your data as CSV or Excel files for further analysis. Way of Life collects information and shows you your personal trends. Thanks to that you see how much progress you did and can develop good habits (in even more) – even better ones than you had. You can download it on a mobile device by AppStore or GooglePlay.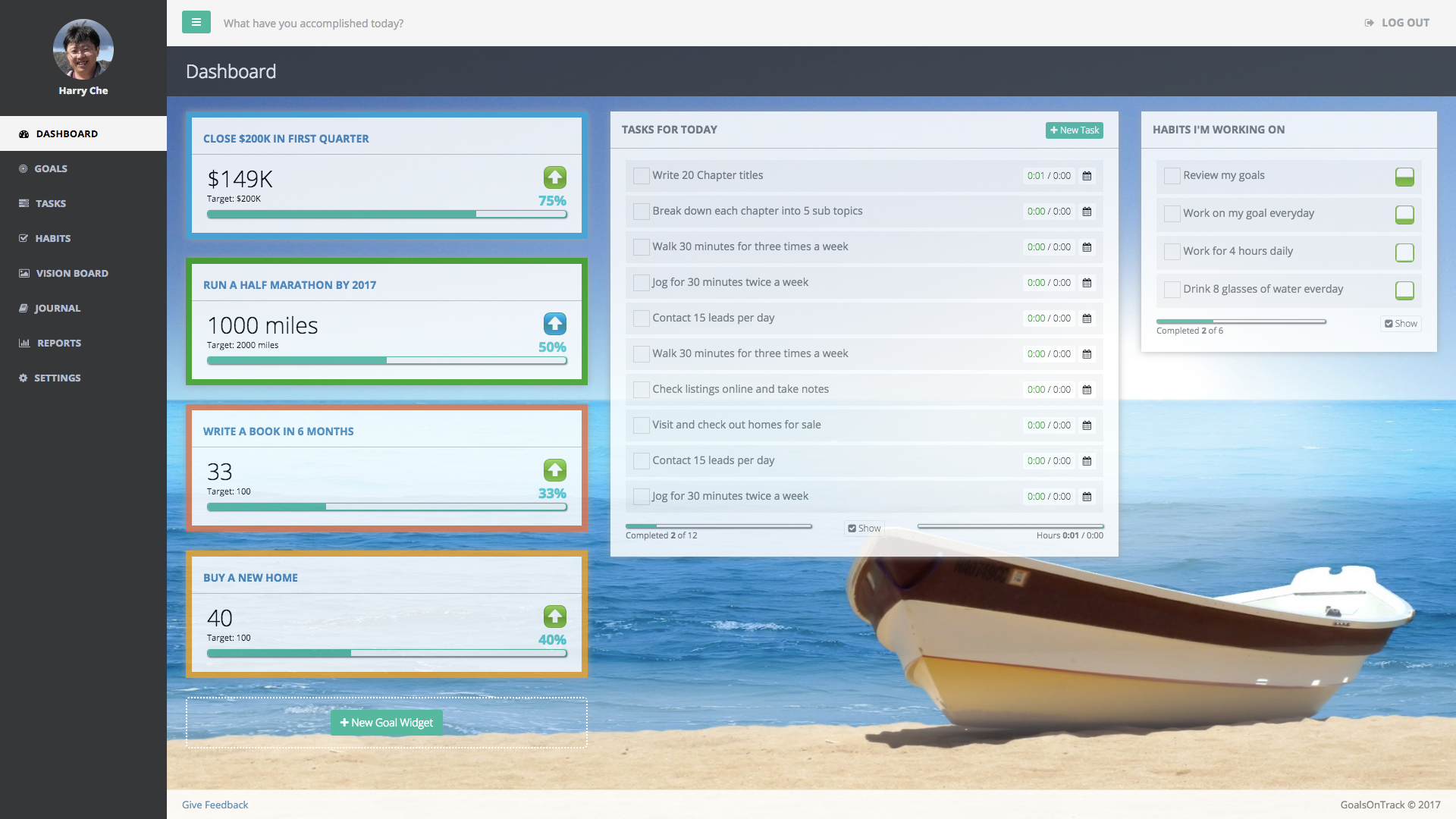 SMART goal framework (Specific, Measurable, Attainable, Realistic and Timely) is the basis of the next goal tracking app. Goals on Track has many benefits like breaking large, smart goals into smaller tasks. That helps to achieve goals faster and with bigger satisfaction. The app can track offline, so there's no possibility to miss a thing. You have your own journal to write your thoughts, experiences while making a goal.  Goals on Track can be used on web interfaces or mobile apps.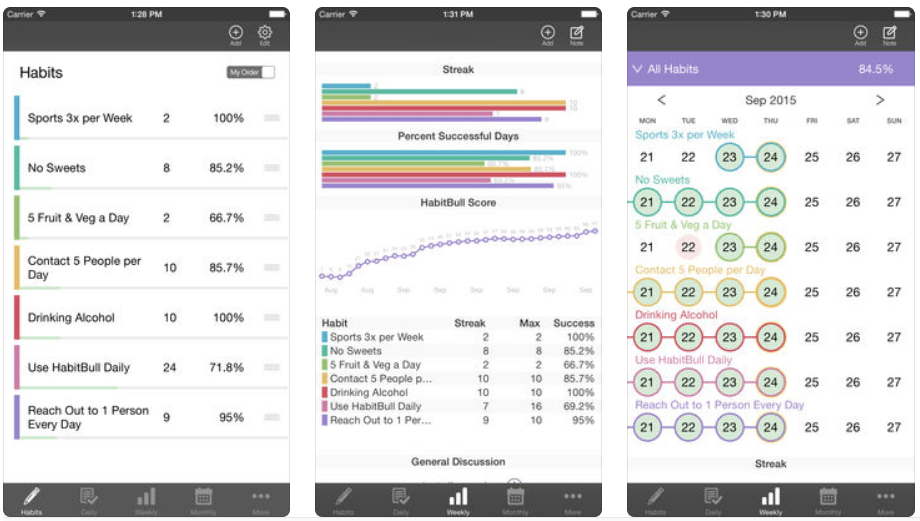 HabitBull is a free mobile app, which main feature is tracking goals. This one of best apps for goals looks like a chain, where users can see daily habits. It allows working on three goals simultaneously, using yes/no questions, numbers, or data from GoogleFit. An app reminds us about things to do, shows progress reports and many statistics and graphs, provoking us to increase our effort and stay motivated. There is a possibility to easily export data to CSV form and analyze it on your own. HabitBull is available on AppStore or GooglePlay.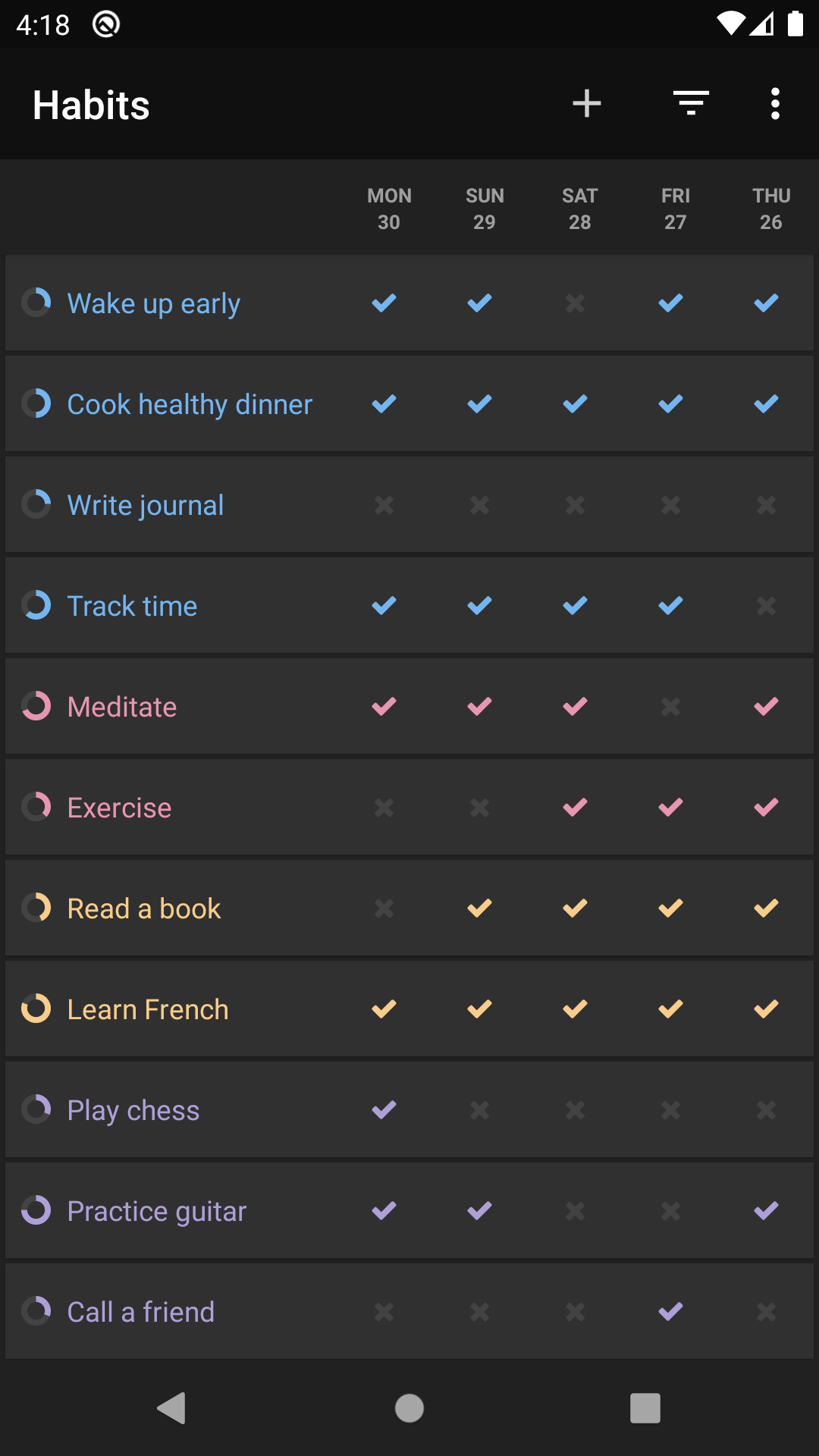 Another application that can be used to track goals and break bad habits. This great app is entirely free and open-source, has daily reminders, beautiful charts, and insightful statistics. What is more, Loop has an advanced formula for calculating the strength and weaknesses of your daily tasks, works offline, and respect privacy policy. You can totally control data, which could be analyzed through a spreadsheet. Unfortunately, it is might to download it only on mobile devices powered by Android.‍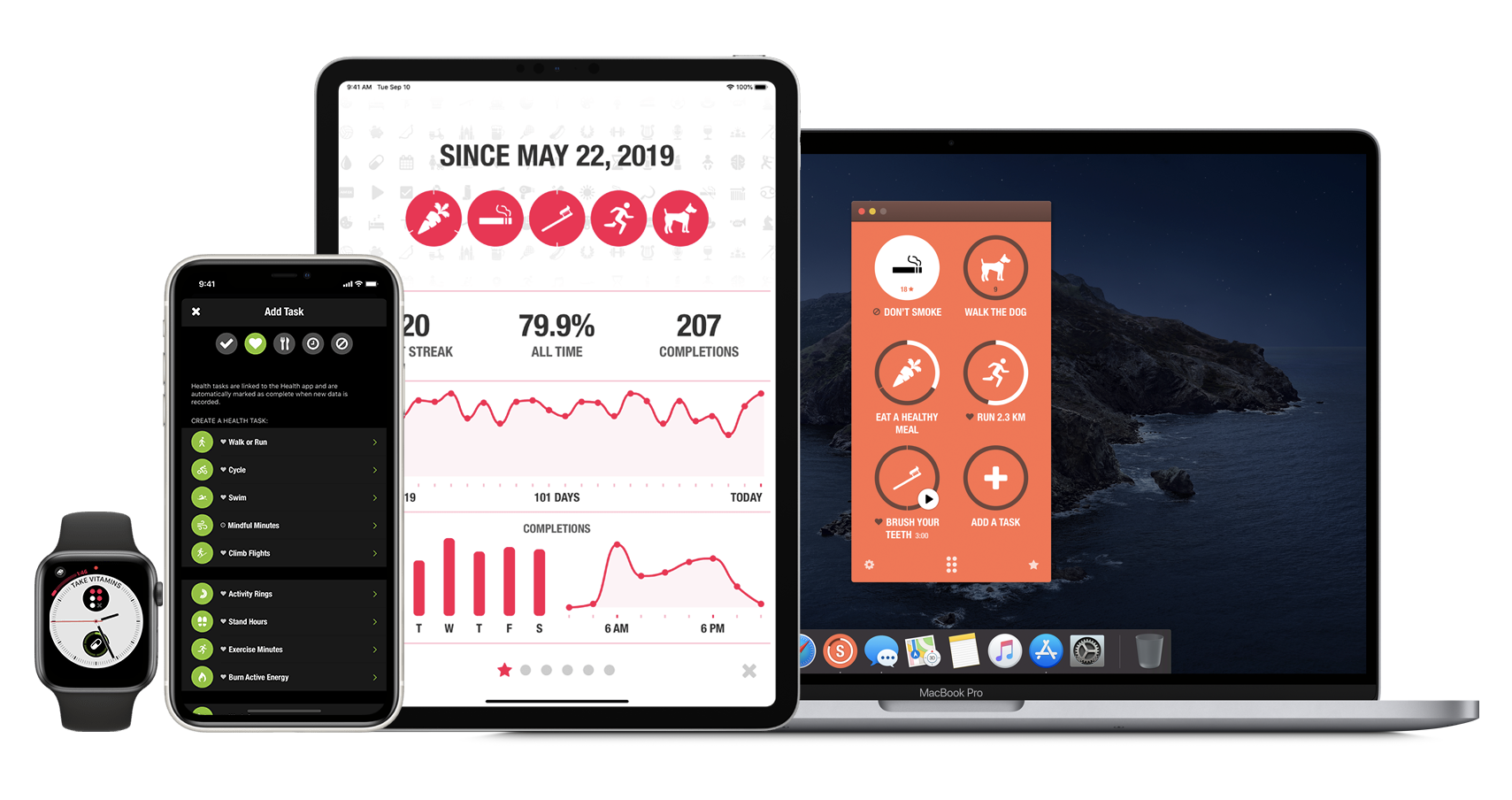 One of the best goal tracking apps, helping make to-do lists and initiate healthy habits, is Streaks. User-friendly and good-looking interface in combination with smart features like automatic recognition of task as completed, reminding about daily goals, and creating timed tasks to track mindfulness, brushing your teeth, or anything. Streaks has many colorful widgets, themes, and icons. It all is available on iPhone, Apple Watch, iPad, and Mac.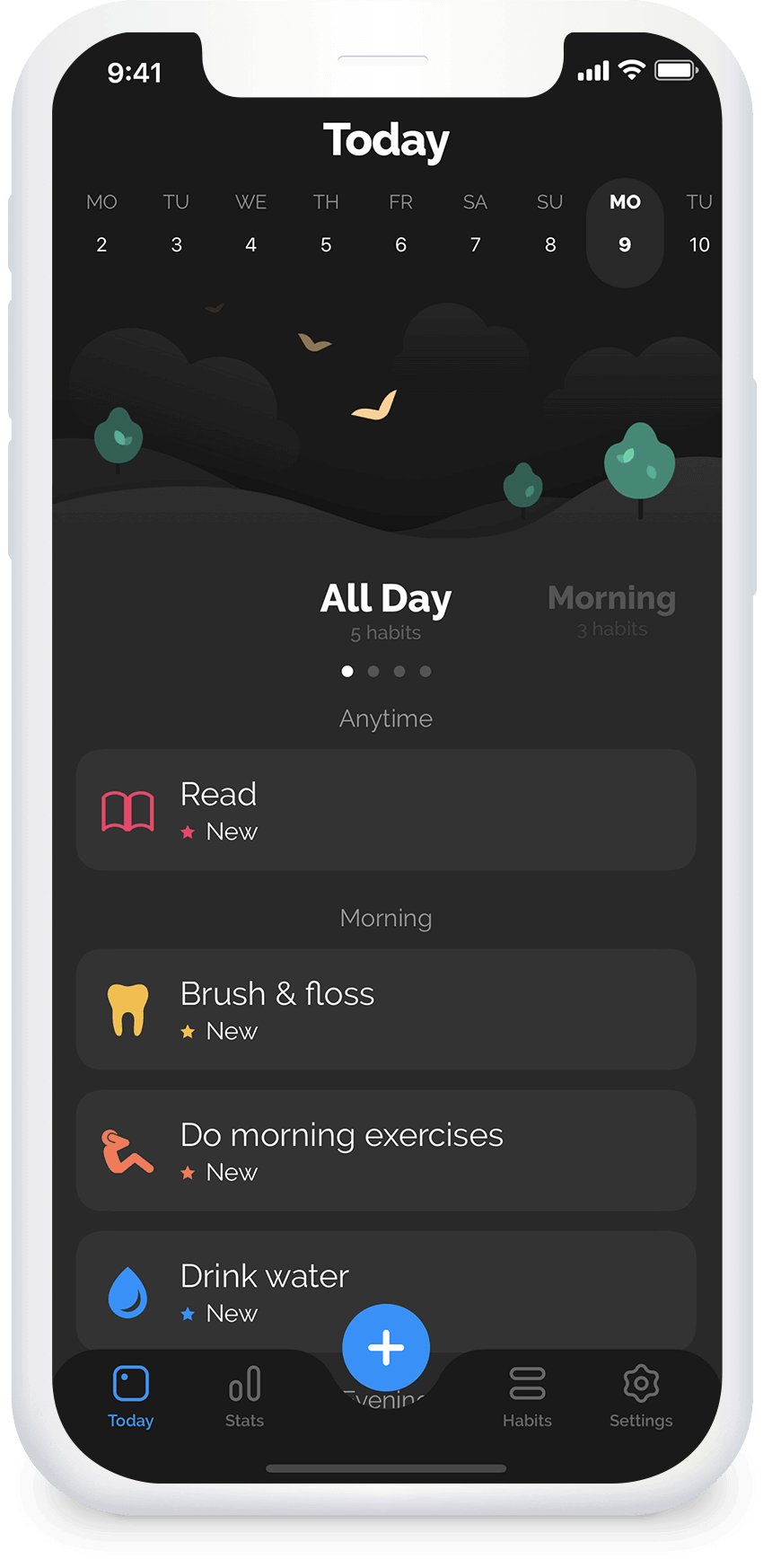 Productive is one of the best apps for goals with to-do lists. It has many features to build habits – habit management, challenges, personalized articles to increase your awareness and motivation, customization, statistics with bar charts, notifications, and ADHD assistance to help you focus. You can buy a premium plan, which broadens all these functions and shows a summary from the whole week. An app is available to use on desktop, mobile – iOS, and Android.‍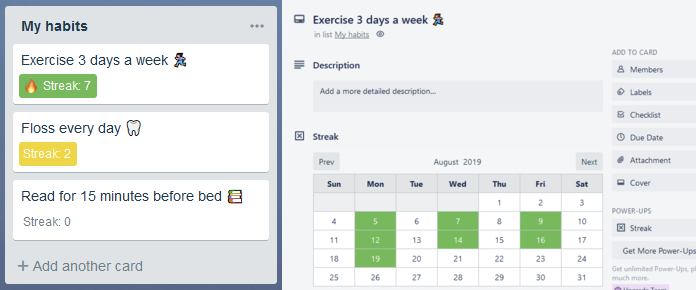 Trello is a goal tracking app with many other features. It enables you to create dashboards, cards, and tasks, which you can monitor. Trello made integration with a special power-up addition: Habit Tracker, which is dedicated to habit tracking. It helps organize your morning ritual or daily routine if you use a bullet journal system. Trello is free but if you are interested, has a premium version too. The platform is available on the web and mobile.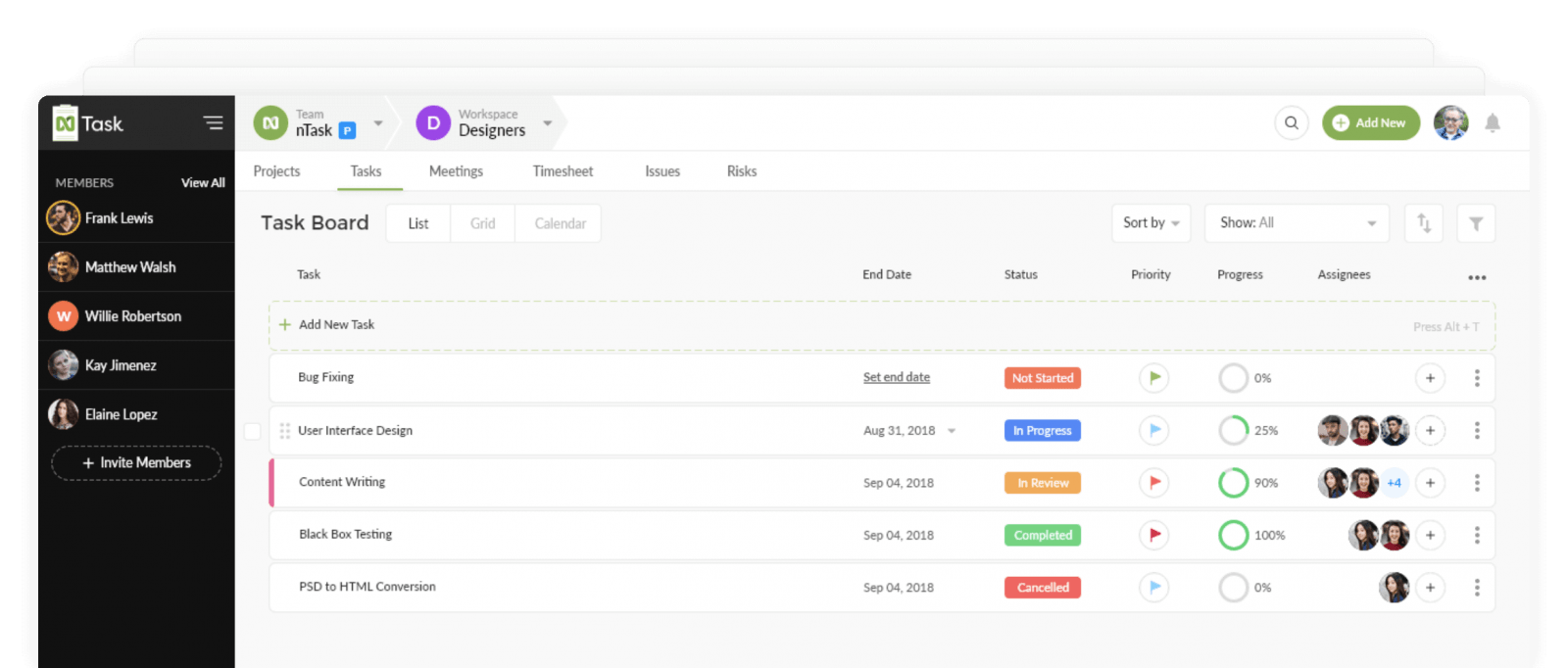 nTask is a task management and goal tracking app free for everyone. It is easy to use and intuitive, so personalizing your own goals should not be a problem. Various features, like defining the whole project, defining risk, creating to-do lists, help with goal tracking, and building positive habits. You can easily perceive a bigger picture of your projects and team's performance, which enables you to manage tasks appropriately. The app is available for iPhone, Android, and Web.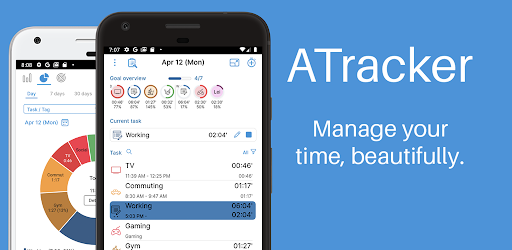 ATracker is the next very efficient app, one of the best goal tracking apps for desktop and mobiles. This time tracker combines tracking daily habits, goals, and routines. ATracker is user-friendly and easy because only by one step you can start tracking. A fully customized interface makes using an app very comfortable, especially when key features can be synced with other devices. ATracker boosts productivity by showing progress bars and is free in the basic version. However, the paid plan gives us access to unlimited habits and advanced settings.‍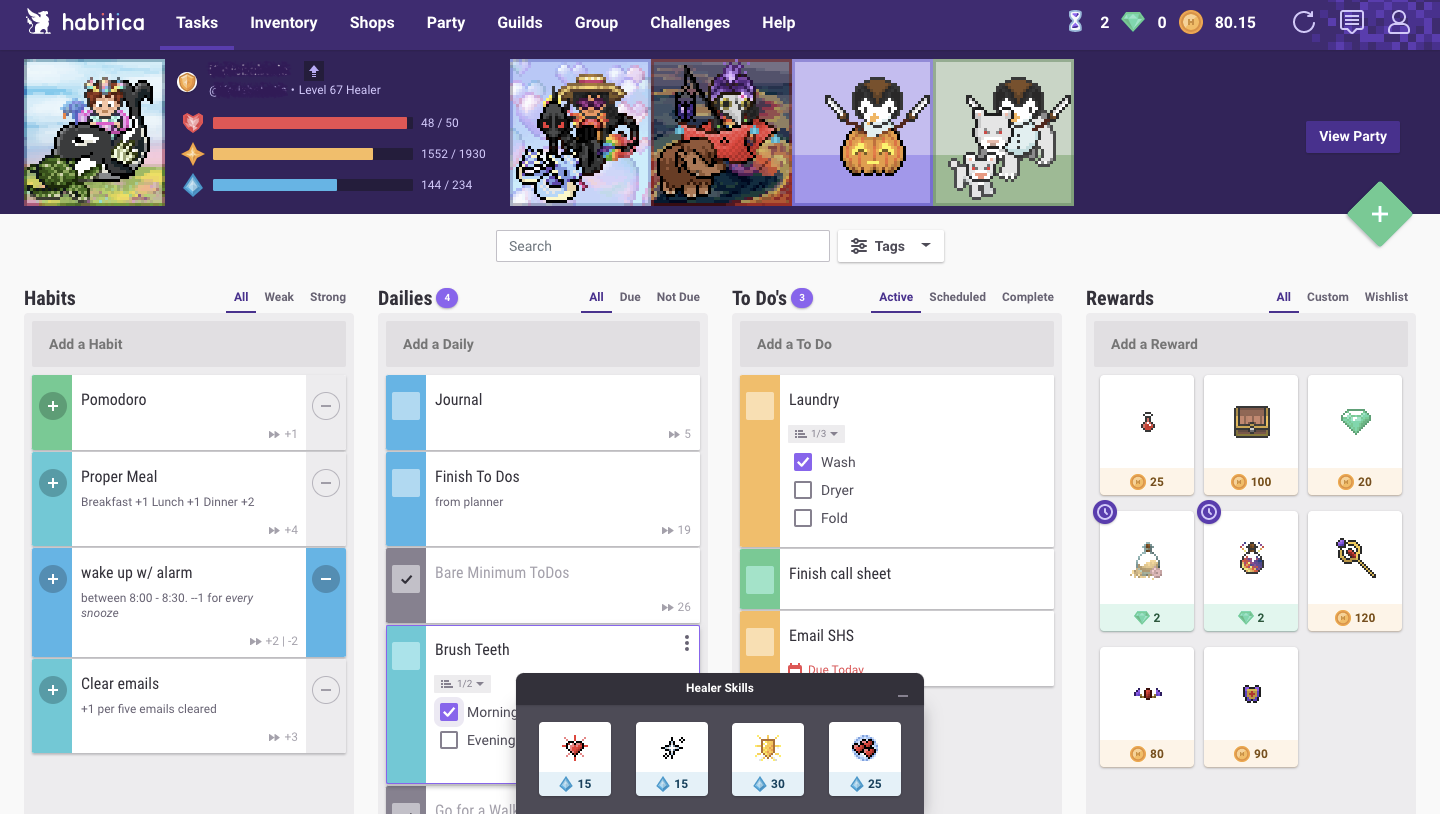 Goal tracking app for people who are keen on games. It is an app dedicated to building a positive habit, so users of it are called Habiticans. By making daily tasks you get reward points and the support of the huge community. You can improve your magic skills because Habitica treats life like a game, where your own goals can be translated into quests. Isn't sound magical? Everything is visualized on the progress bar and available in a free version on the web or mobiles.
To Sum Up
You got to know the best goal tracking apps, which help you improve your way of life, set goals, create structured outlines of your tasks, and finally see overall progress. Pick one or two, test them, change your habits, style of work and increase your productivity.‍