16 TMetric Alternatives – Time Tracking Tools to Optimize Work
March 31, 2019
by Kate Borucka
One comment
The market of time tracking software is booming with thousands of apps and new software is created every day. Numerous tools are used by people from all over the world to increase productivity, save time, and generate greater profit. One of such apps is TMetric. It is a time tracking software which helps organize work of teams and individuals.
TMetric allows people to monitor hours spent on work, particular tasks, and projects. It creates with detailed reports so that you can analyze work of your team to save more hours every day. With TMetric, you can control the progress of projects, measure their profitability, control remote and onsite employees, and invoice clients based on billable rates. Integrations with other tools make work smooth and convenient.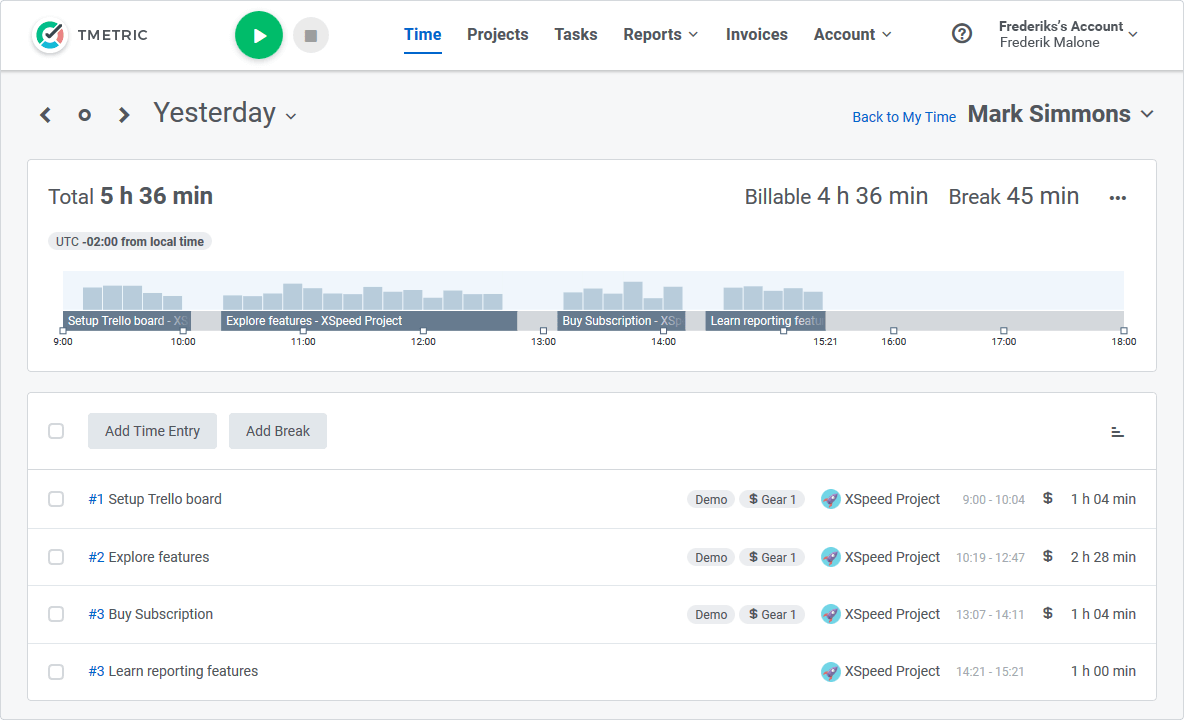 But TMetric is not the only tool that can help you and your team become more productive and organized. In this article, we'll take a look at TMetric alternatives. See how they work and give them a try!
TimeCamp is a 100% free time tracker for unlimited users. It's a great alternative to every time tracking software available. Not only does it help in tracking work hours but also manage projects, workflow, and payroll. What is more, TimeCamp offers a set of features that other tools described in this article do not.
Main features:
Wide range of platforms the tool is available for Desktop (app for Windows, Mac, and Linux)
Mobile app available for iOS and Android to help users track their time regardless of location
Automatic time tracking which allows you to switch between tasks without any effort
Desktop app
The ability to set a time budget for each task to monitor team's workflow
Billing customers accurately thanks to the project's budget tracking
Billable and non-billable hours
Turning time entries into invoices based on estimated hourly rates
Powerful integrations with other apps
TimeCamp helps teams and individuals be accountable, profitable, and productive.
Pricing:
Free – $0 for unlimited users
Basic – $6.30 per user per month billed annually ($7/mo billed monthly)
Pro -$9 per user per month billed annually ($10/mo billed monthly)
Enterprise – available for 100+ users only
See the comparison between TMetric & TimeCamp
Get the best TMetric alternative and take your company to another level!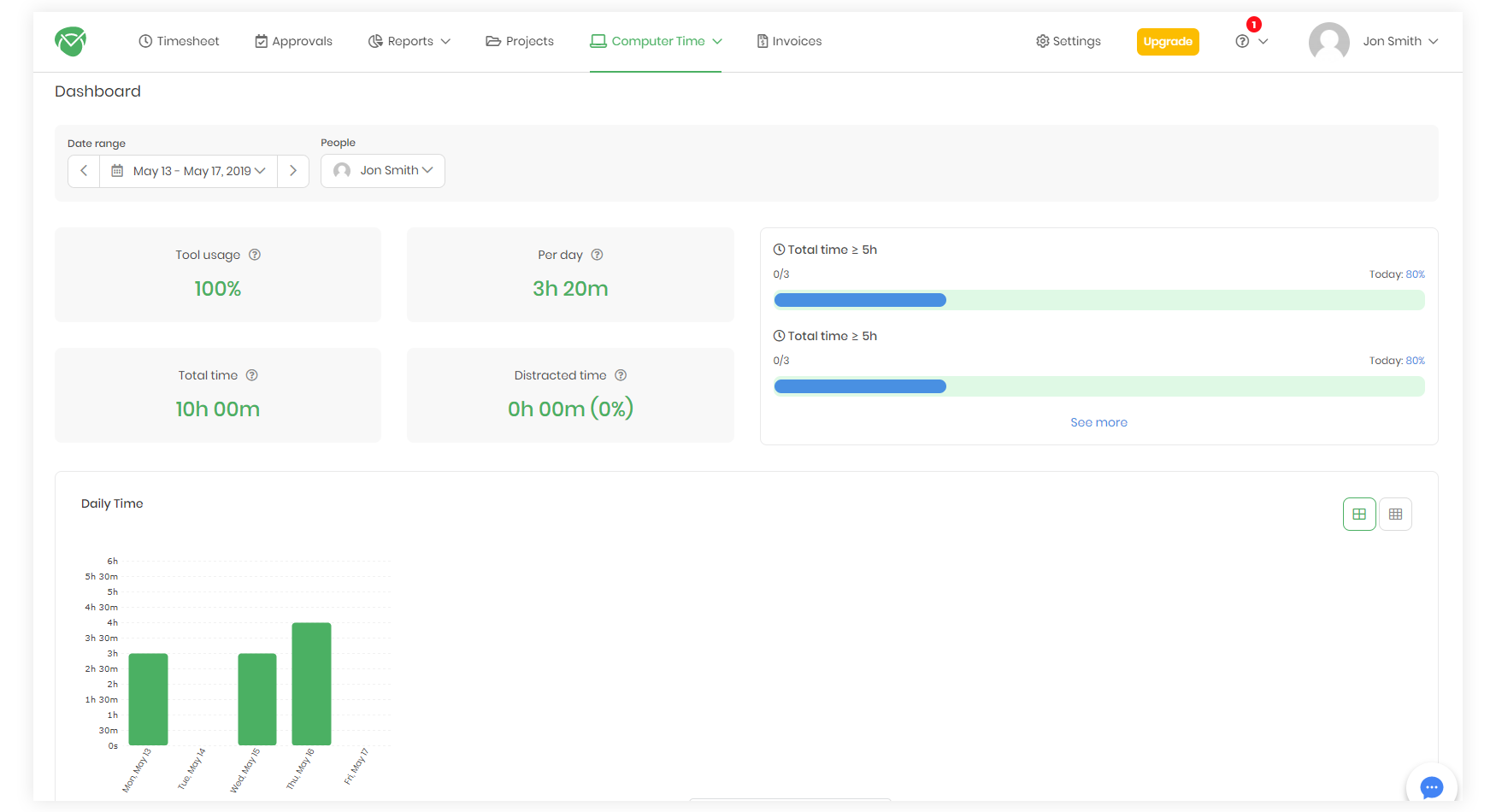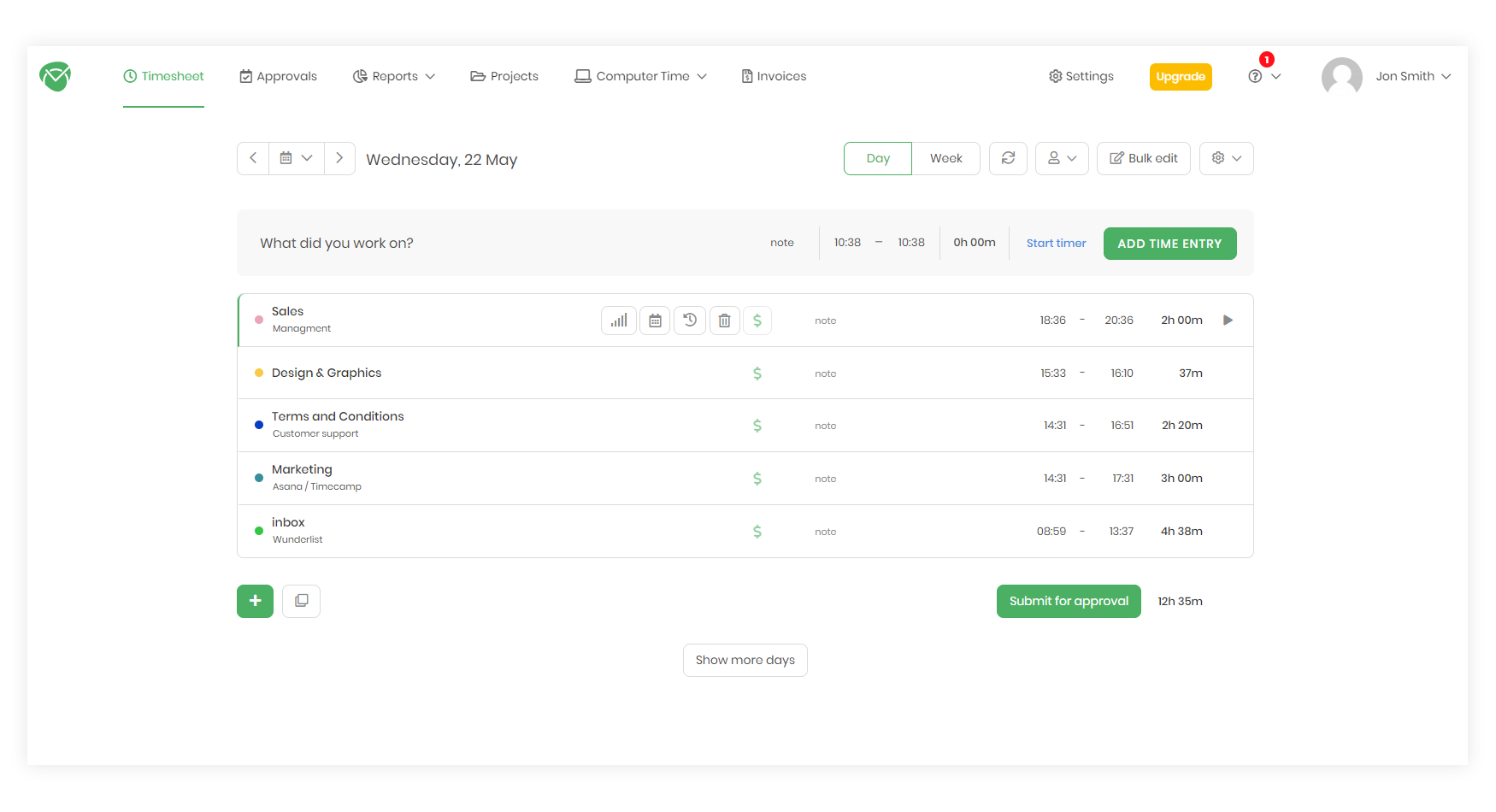 Pancake is online invoicing, project management, time tracking and proposal software. This is another alternative to TMetric as it helps to manage finances and project budget, CRM, and monitor time spent on work and projects. Pancake is not a hosted application, you can install it on any server you like.
Main features:
Client Access Area which works as CRM to help you interact with clients
Online Invoicing
Project management with task management, task management, milestones and priorities, setting rates for customers
Creating proposals for clients
Time tracking with timesheets
Pricing: Prices start from $149 and depend on number of licenses and Priority Support Credits you want to buy. It's a single fee and you don't have to pay for anything more.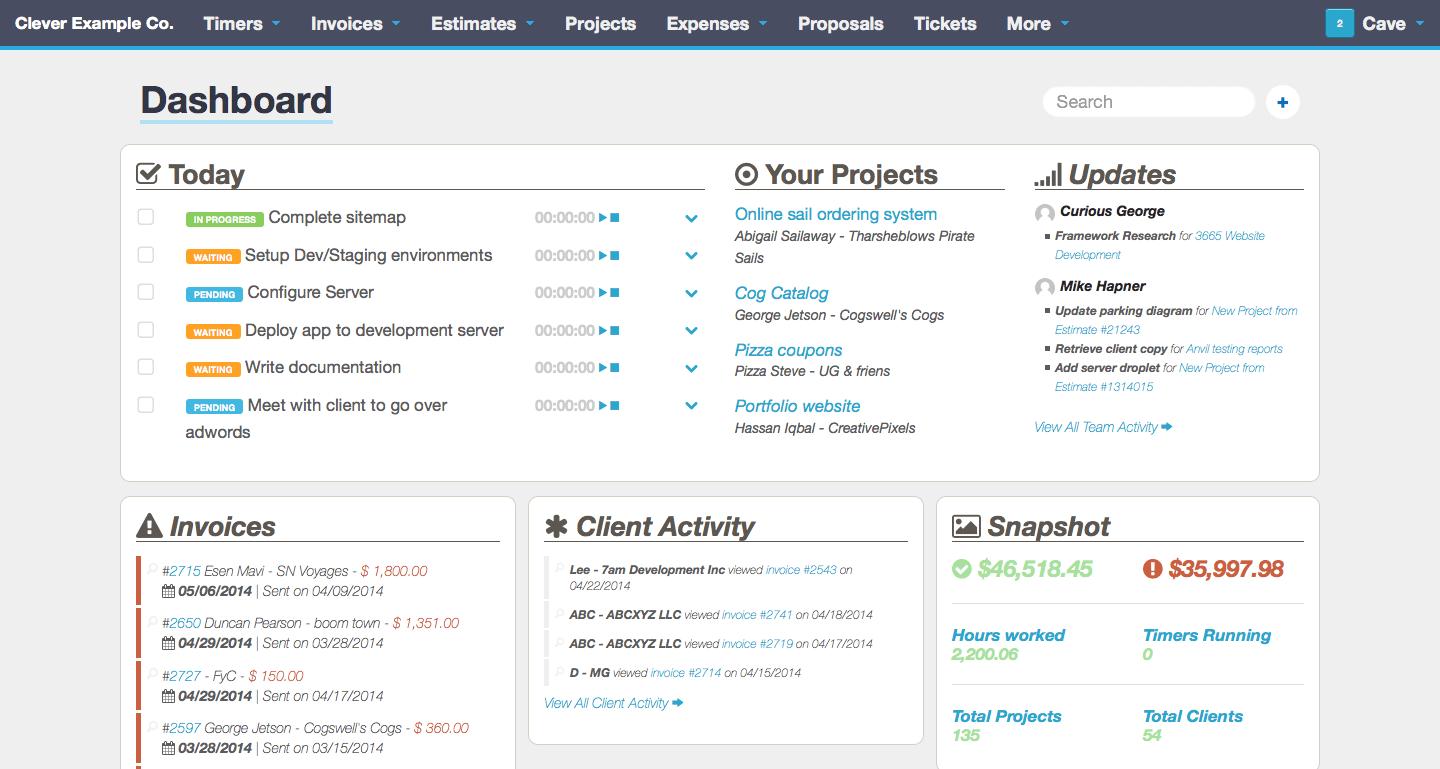 Kantree is a great alternative to TMetric in terms of project time tracking. It's a great software because it allows you to plan and schedule every project and workflow so you can see, monitor, and manage everything in one place. It's best for teams as the tool helps to collaborate and see the common progress of the project.
Main features:
Time tracking with activity journal, different categories of time tracking
Cards which can represent anything from tasks to persons. Each cards can have a description, assignees, due dates, file attachments, labels and more
Visualization of projects
Reports on projects – time spent on work, progress or flow diagram
Request tracking
Integrations
Pricing: Pricing starts from 1.800€ for 1-10 users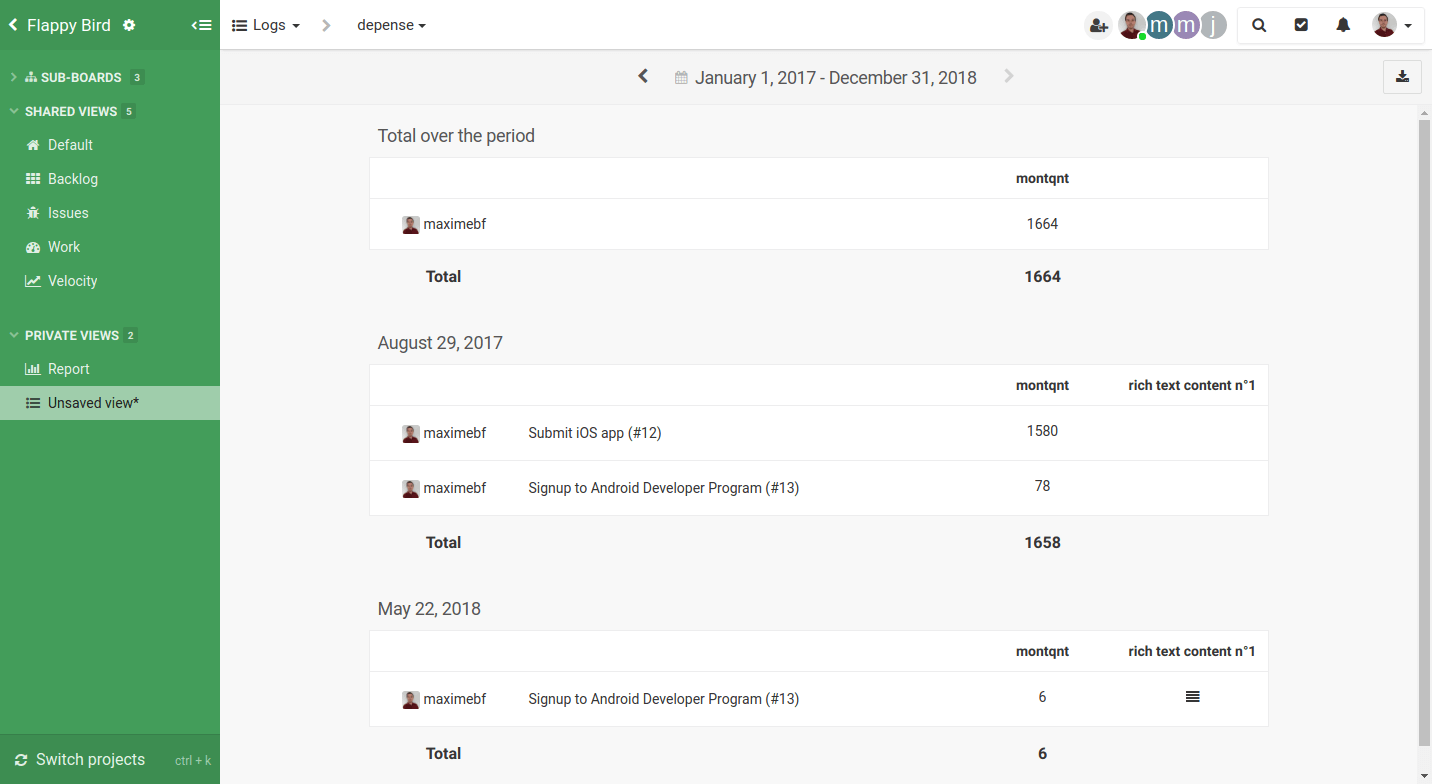 4. Clockodo
Clockodo is another good alternative to TMetric. It's a time tracking software with the most necessary features a time tracker should have. You can use it to track time of every project and every team member and use the reports to optimize time of work. Clockodo is suitable for large and small teams.
Main features:
Simple stopwatch to easily track time
Individual reports sorted optionally by project, customer, employee or time period featuring the indicators, data and charts
Employee reports including overtime, vacations, sick leave, overtime accounts, breaks
Team calendar
Absence approval
Budgeting
Entering time manually
Pricing:
$6.50 per user per month up to 10 employees
From the 11th employee: $3.50 per user per month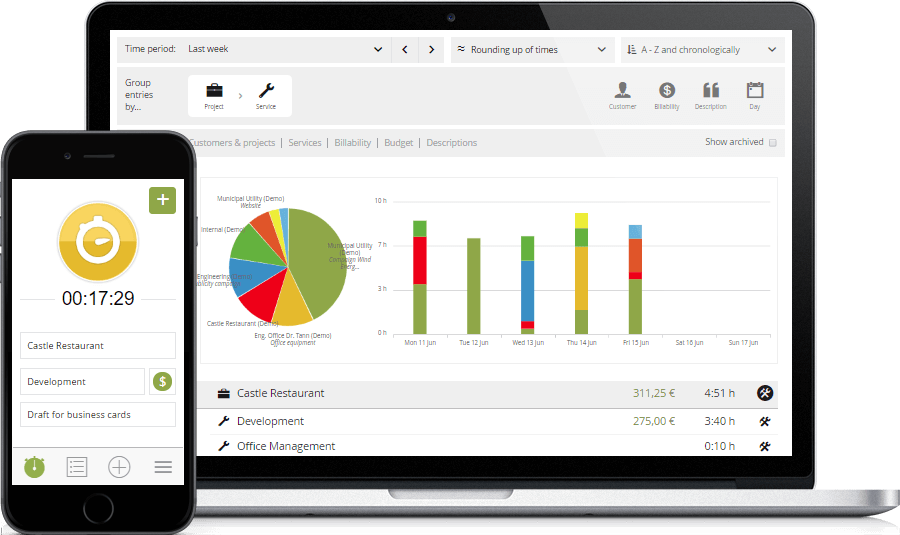 5. Timeneye
Timeneye is an intuitive and easy-to-use time tracking software for teams and individuals. It helps to create accurate timesheets and manage projects. Timeneye has a nice interface with transparent view. It's a good alternative to TMetric for people who are looking for a simple time tracking app.
Main features:
Timeneye allows you to automatically track time or add entries manually
You can keep track of how much time your team spends on different tasks and projects
Setting budget
Monitoring the progress of projects
Reports
Available as a mobile app or a web-based version
Pricing:
Free for 1 user
Pro -$

6

/user /month paid yearly

or $7 /user /month paid monthly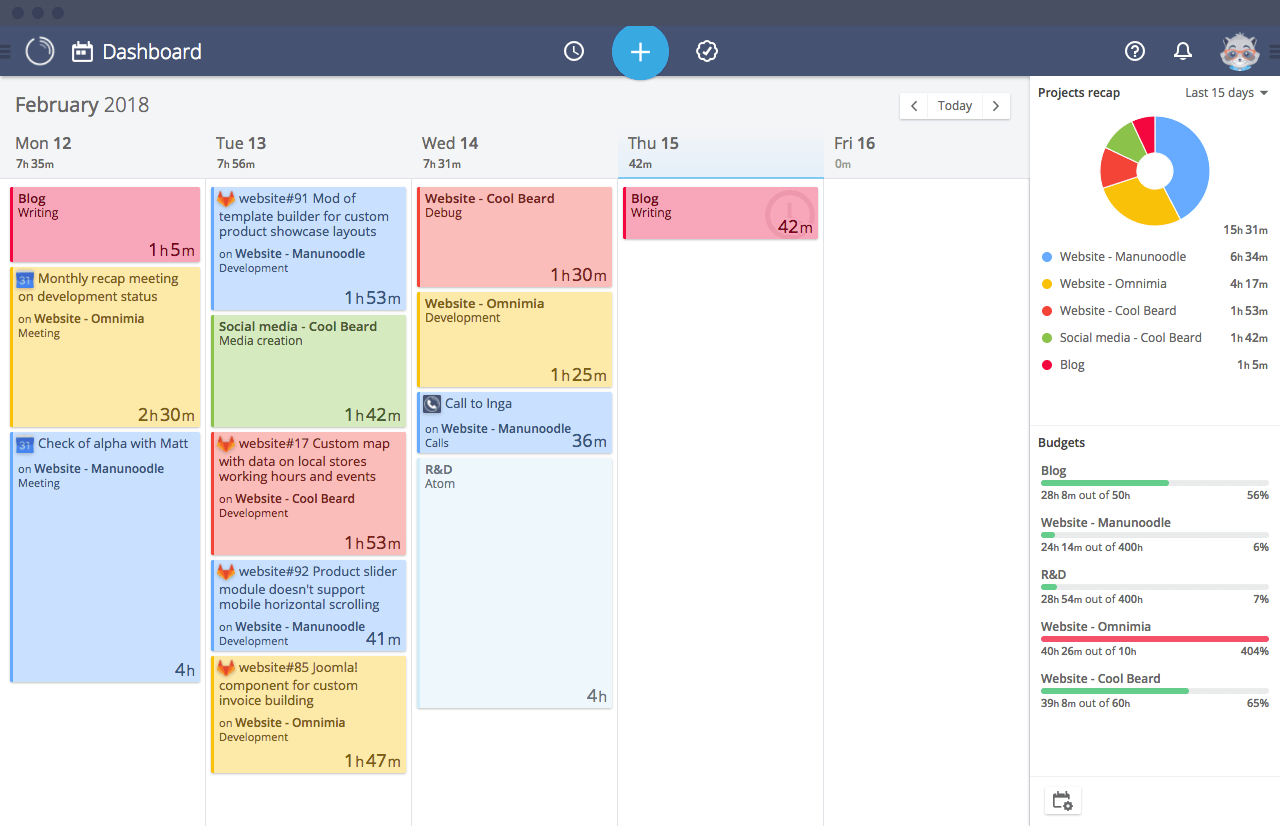 6. Harvest is one of the most popular time tracking software for Mac. It's very helpful in planning projects, keeping track of expenses and making sure deadlines are always met, even if they're tight.
Main features
Time and expense tracking
Powerful reporting
Unlimited invoices and estimates
Project budget alerts
Timesheet approval
Integrations with 100+ apps
Apps for iOS (and Mac)
Pricing:
Free for 1 person
Solo for 1 Person, Unlimited Projects, $12 per month ($10.80 per month, billed annually)
Team for 2+ People, Unlimited Projects, $12/person per month
See the comparison between Harvest & TimeCamp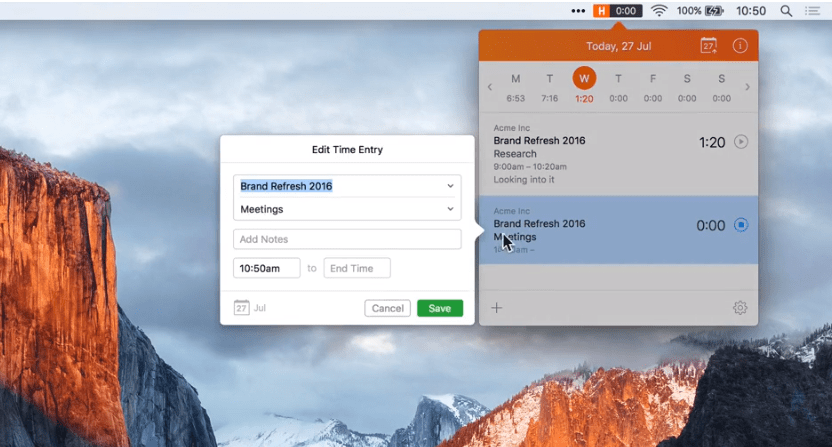 Qbserve is a good alternative to TMetric for Mac users. It's a powerful time tracking software which tracks your activities and collects all the data in reports. It can help you become more productive and spend time on what really matters.
Main features:
Automatic productivity analysis for over 7,600 sites, apps and games.
Project tracking based on opened web pages, documents, and window titles.
Individual logging of Slack teams, Skype chats, and YouTube videos.
Detailed productivity reports for days, weeks, and months.
Timesheets with activity summary, timeline, and notes for each hour.
Invoice generation in 18 languages and data export to JSON & CSV
Pricing:
$40 – you pay once and can use it forever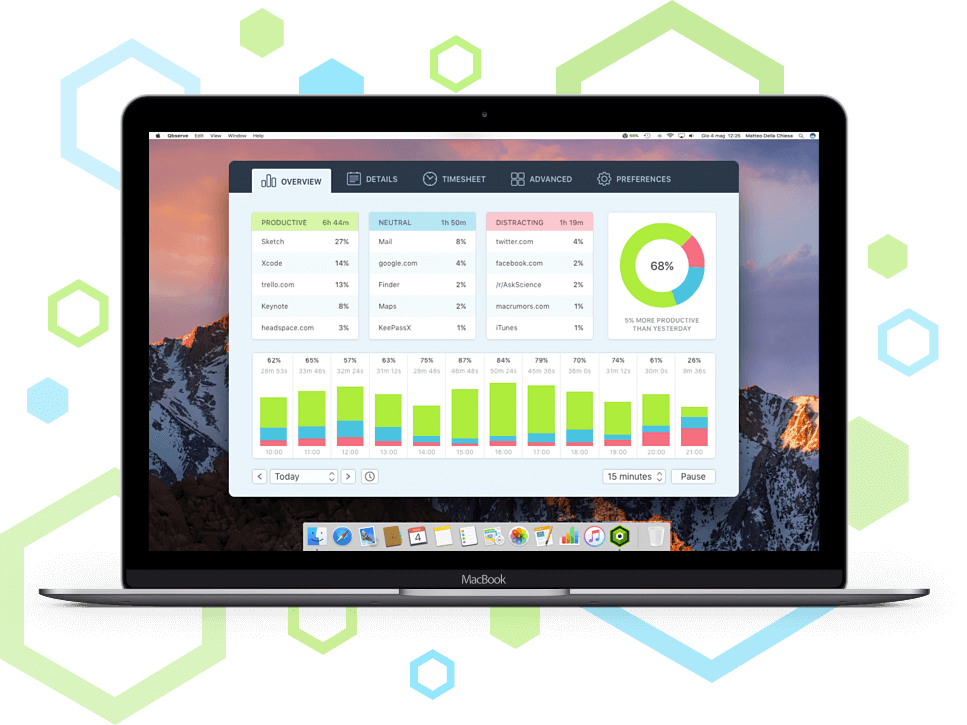 This software is a cloud-based time tracker. But not only. With Timr, you can monitor employees activity when they work on a project or even when they're on the road. It's a good solution for teams whose job include traveling or work on site.
Main features:
Employee time tracking including time off, holidays, sick leave, etc.
Project time tracking
Digital mileage tracking – GPS
You can create detailed structures for clients, projects, departments and teams  in your company
Detailed reports and analyses
Mobile apps
Pricing:
Regular – No base fee +  €8/user per month

Plus – €29/month base fee + €8/user per month
Enterprise – €79/month base fee + €8/user per month
See the comparison between Timr & TimeCamp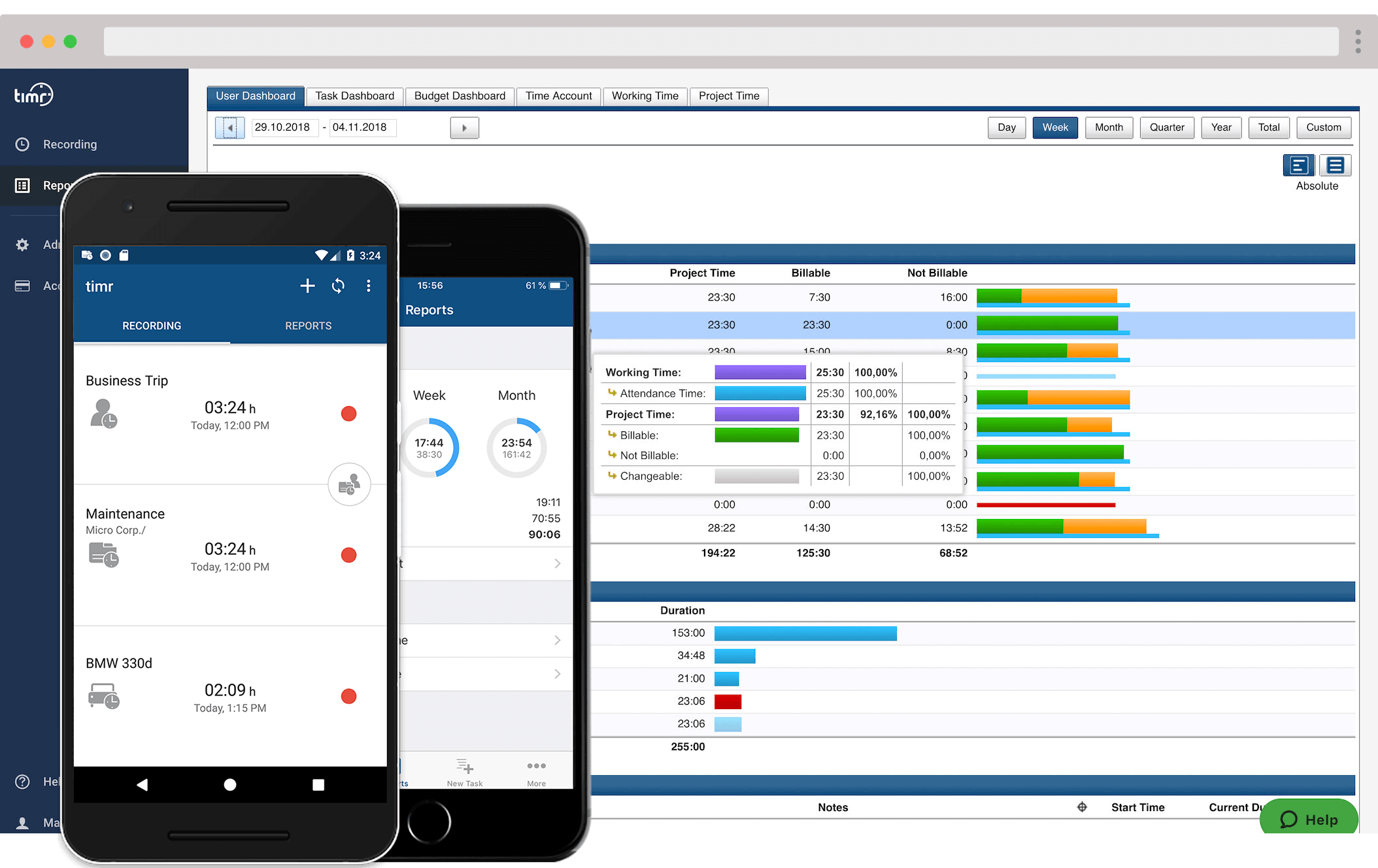 9. Hubstaff
Hubstaff is one of the most popular time tracking software available for all platforms. It's also a good alternative to TMetric due to its functionality. It has all the necessary features a good time tracking app should have. Small, large teams, corporations, individuals, everyone will find it helpful.
Main features:
Location monitoring – tracking through GPS, web-based reports

Online timesheets
Team dashboard
Reporting
Scheduling with employee attendance tracker and staff scheduler
Screenshots
Invoicing
Setting up pay rates once for each member of team or project, so payments are automatically sent based on hours worked during that pay period
Numerous integrations
Pricing:
Free – 1 User

Basic –

1 User –

$5/ month

Premium –

1 User – $

10/ month
See the comparison between Hubstaff & TimeCamp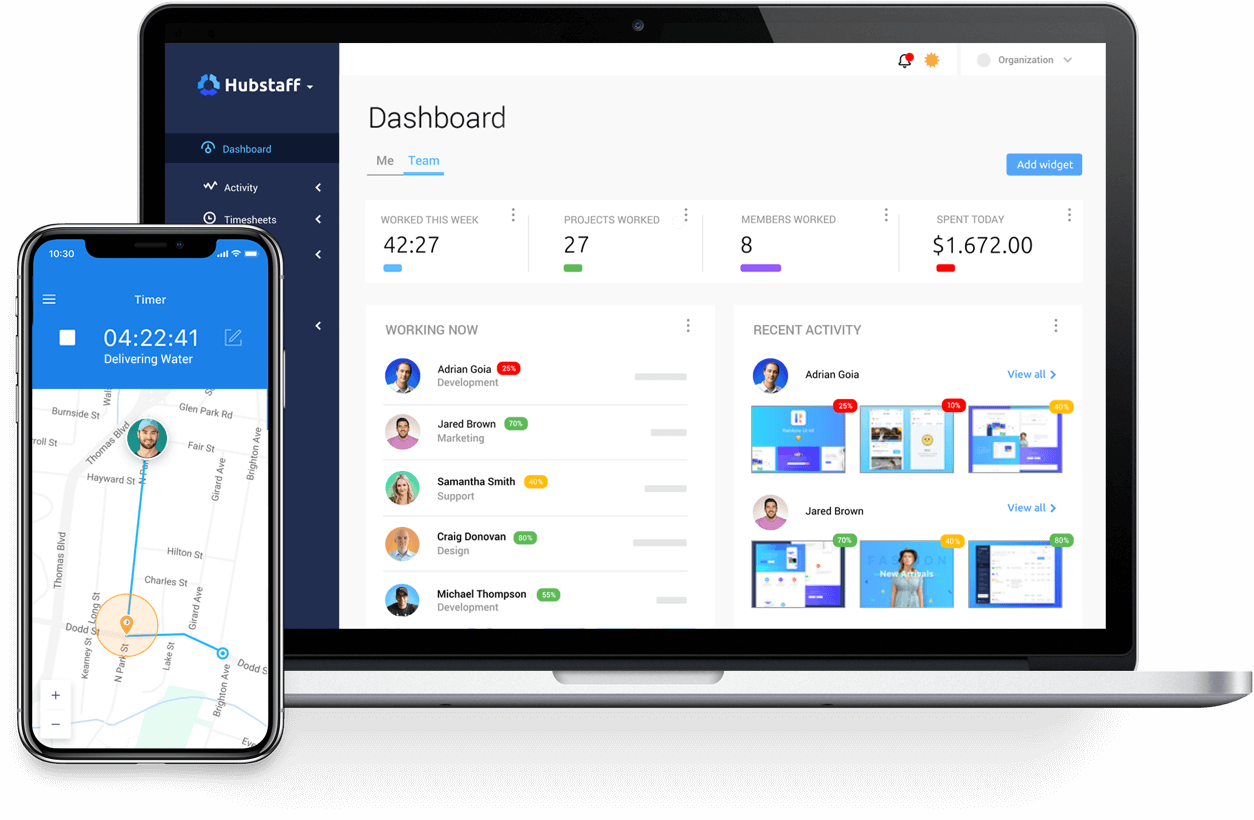 This time tracking software is suitable for organizations and individuals. If you're the type of person who likes to set goals and keep a steady hand on work, try RescueTime. It's a great app for busy people who like challenges but also enjoy writing down their achievements to maintain control over all tasks.
Main features:
Detailed reports
Weekly e-mail summary
Setting goals for the day
Activities are automatically grouped into pre-defined categories with built-in productivity scores covering thousands of websites and  applications. You can customize categories and productivity scores to meet your needs
Blocking distracting sites
Tracking offline activity
Notifications and alerts
Price:
RescueTime Lite – free
RescueTime Premium – Monthly:

$9 per month

,

Annual:

$72 per year
See the comparison between RescueTime & TimeCamp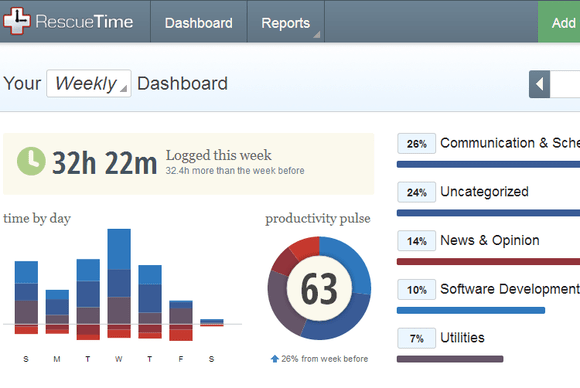 This is another high quality alternative to TMetric, especially for people who are looking for an easy but powerful time tracking app. ManicTime automatically tracks time and creates accurate timesheets. Perfect for time tracking maniacs.
Main features:
Automatic time tracking
Easy to understand graphical interface
Reports
Can be integrated with other systems
Auto tagging
Tracks away time
Pricing:
Free with limited features
Pro starts from $67.00 per license
See the comparison between ManicTime & TimeCamp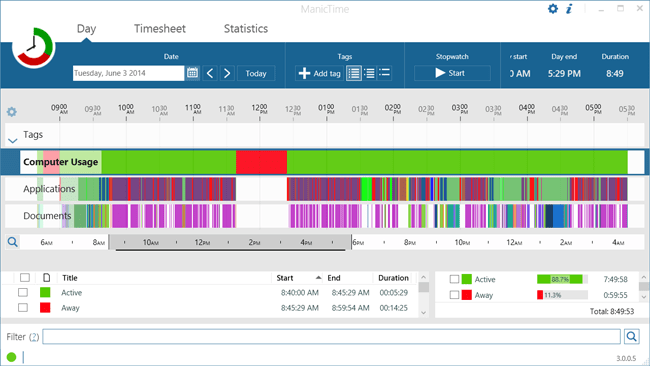 TSheets is a time tracking software for organizations that value flexibility. It's suitable for small and large teams, for those who often travel as well as for remote workers. With TSheets every manager can monitor employees' activity and location.
Main features:
GPS location tracking – real-time insight into who's working on what and where
Convenient time tracking with the mobile app
Real-time interactive reports
You can automate overtime rules, customize pay rates, and preset complex overtime calculations for easy, accurate payroll. Overtime alerts keep you and your employees aware of weekly overtime limits
Scheduling
Employees can clock in and out in real time and enter their time manually,
Advanced time tracking features enable your employee to customize time entry for fields, projects, and tasks
Pricing:
Free for one user
$5 per month for 2-99 Users per user + $

20

base fee per month
$5 per month for 100+ Users + $

100

base fee per month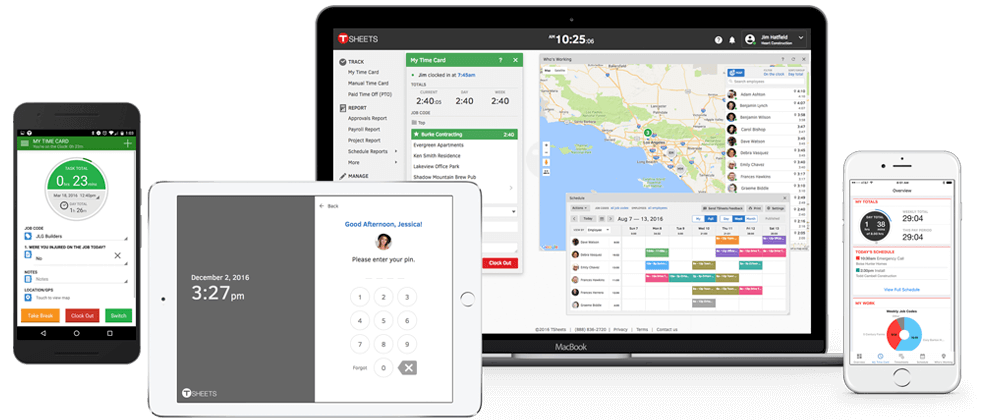 Tick is superb alternative to TMetric due to its simplicity. Not only does it help to track time but also become profitable. Tick offers features that make it easier to track time and budget of projects and tasks. You can easily access everything in one place
Main features:
Time tracking
Project budget tracking
Setting budget for individual tasks
Getting instant budget feedback
Setting recurring projects
Pricing:
Free for 2 project
starting form $19 / month / 10 projects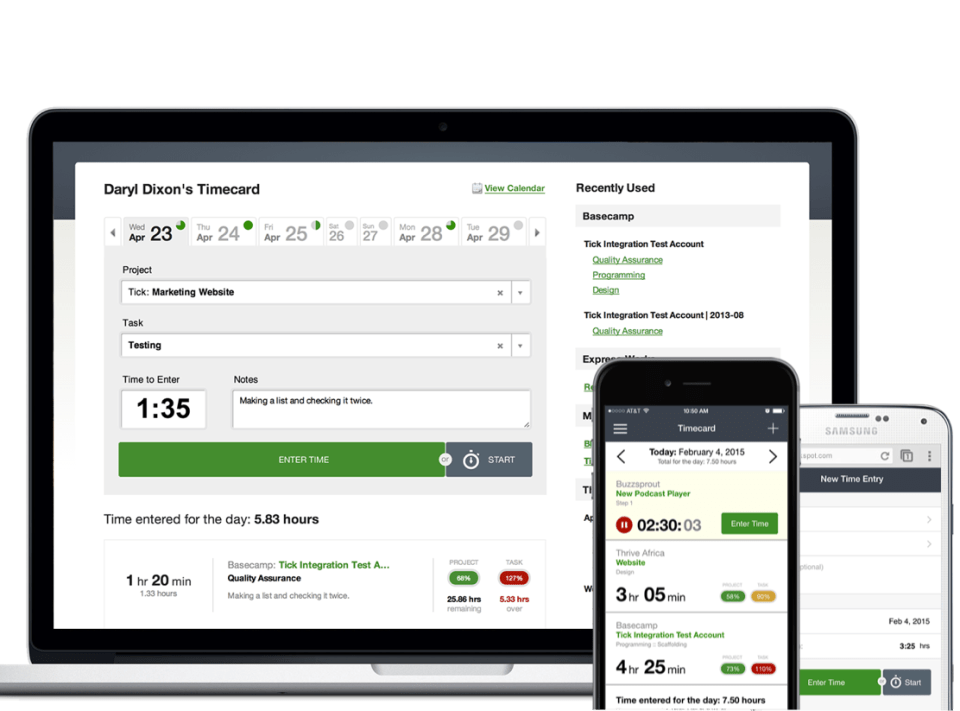 If you have problems with employees being productive, WorkPlus is a first-rate alternative to TMetric. The software can help you motivate your team, eliminate distractions, and keep everybody focused on the really important things. Plus, you can have an insight into your team's daily work routine.
Main features:
Time tracking in the real-time
Tracking time spent on apps and websites, projects (clients) and tasks
Screenshots
Tracking time spent on work and attendance (clocking in and out)
Payroll calculator
Timesheets
Integrations
Pricing:
Monthly – $6 per employee
Yearly – $57 per employee
Enterprise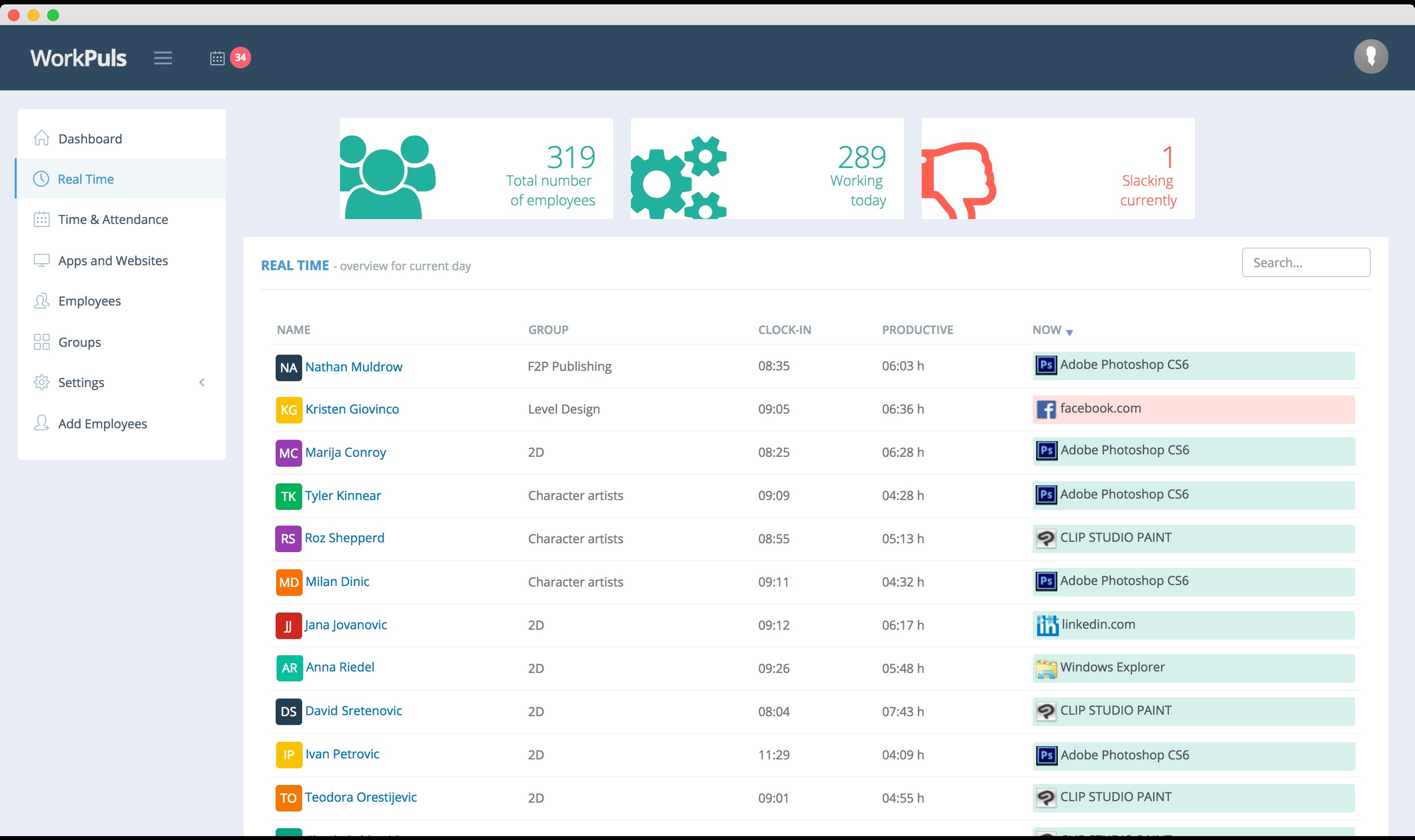 ActivTrak is a powerful tool for monitoring employee's activity. It works completely in the background and gathers all type of information on employees' computer activites. You can use this tool not only to monitor and record work hours but also to analyze your team's behavior and use the data to understand and improve their work.
Main features:
Works automatically in the background
Dataset includes usernames, application title bars, website URLs, activity duration, screenshots, idle time, and USB activity
Ability to set alarms for suspected activities
Detailed reports
Timesheets
Customized tracking – setting tracking schedules for users based on their work hours
Pricing:
Free
Advanced – starts from

$

7.20 per user / per month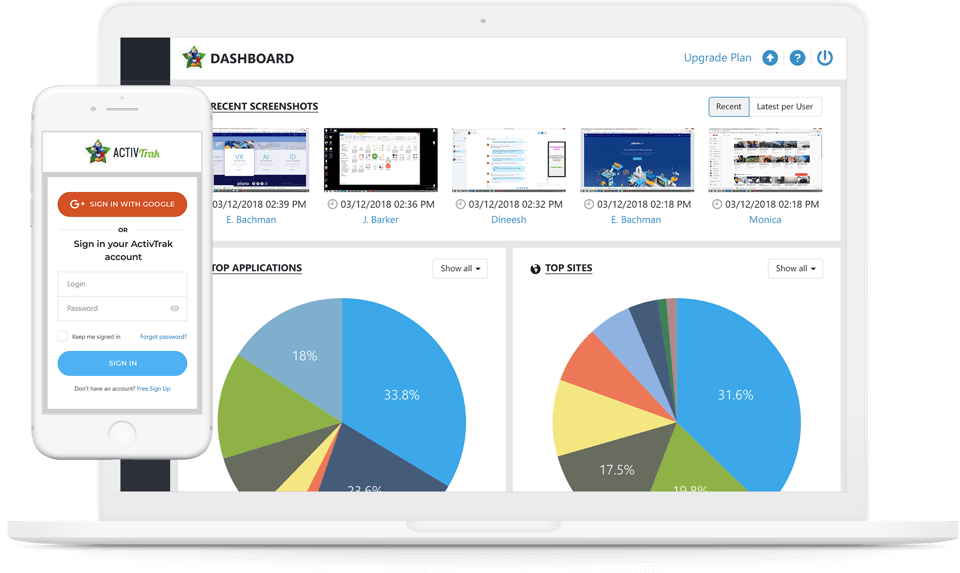 Toggl is a time tracking program that is especially useful for freelancers or small business owners. The app can be used to record how much time is spent on each project and helps to plan tasks ahead of time. It's a simple and intuitive solution. Great alternative to TMetric if you need a simple solution.
Main features:
href
Simple time tracking with start/stop buttons
Reporting
Works on all devices
Automatic time tracking
Project dashboard with the summary of your activity
Pricing:
Starter – $9
Premium – $18
Enterprise – custom pricing
See the comparison between Toggl & TimeCamp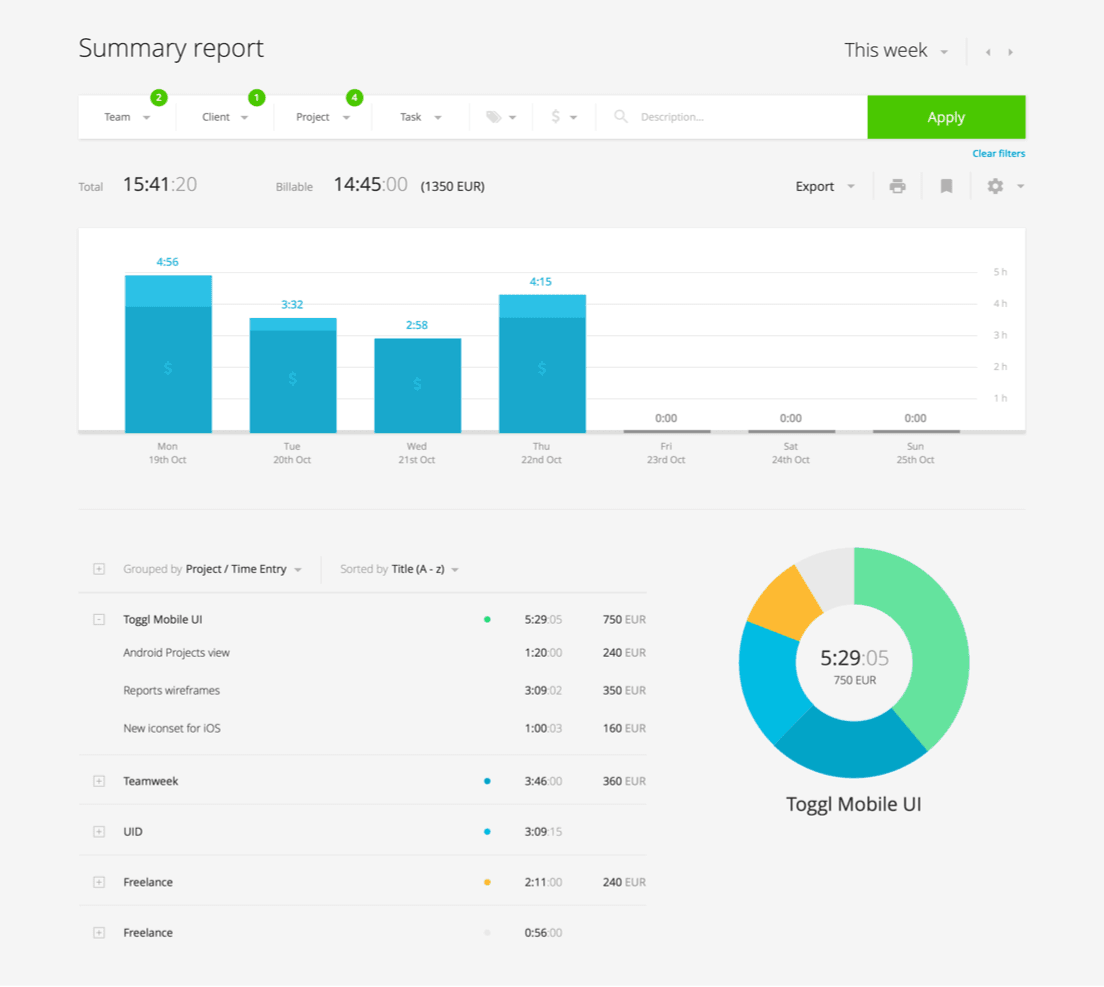 BONUS!
TimeCamp Planner and TimeCamp integration!
If you need more than just time tracking, TimeCamp offers integration with TimeCamp Planner, task management software with extensive chat features. The tool can be used by everyone, no matter the industry and business model. And now when you can integrate TimeCamp with TimeCamp Planner, you can take your work to the next level!