Working at the office – looking at the pros and cons
October 10, 2019
by Jakub Szyszka
No comments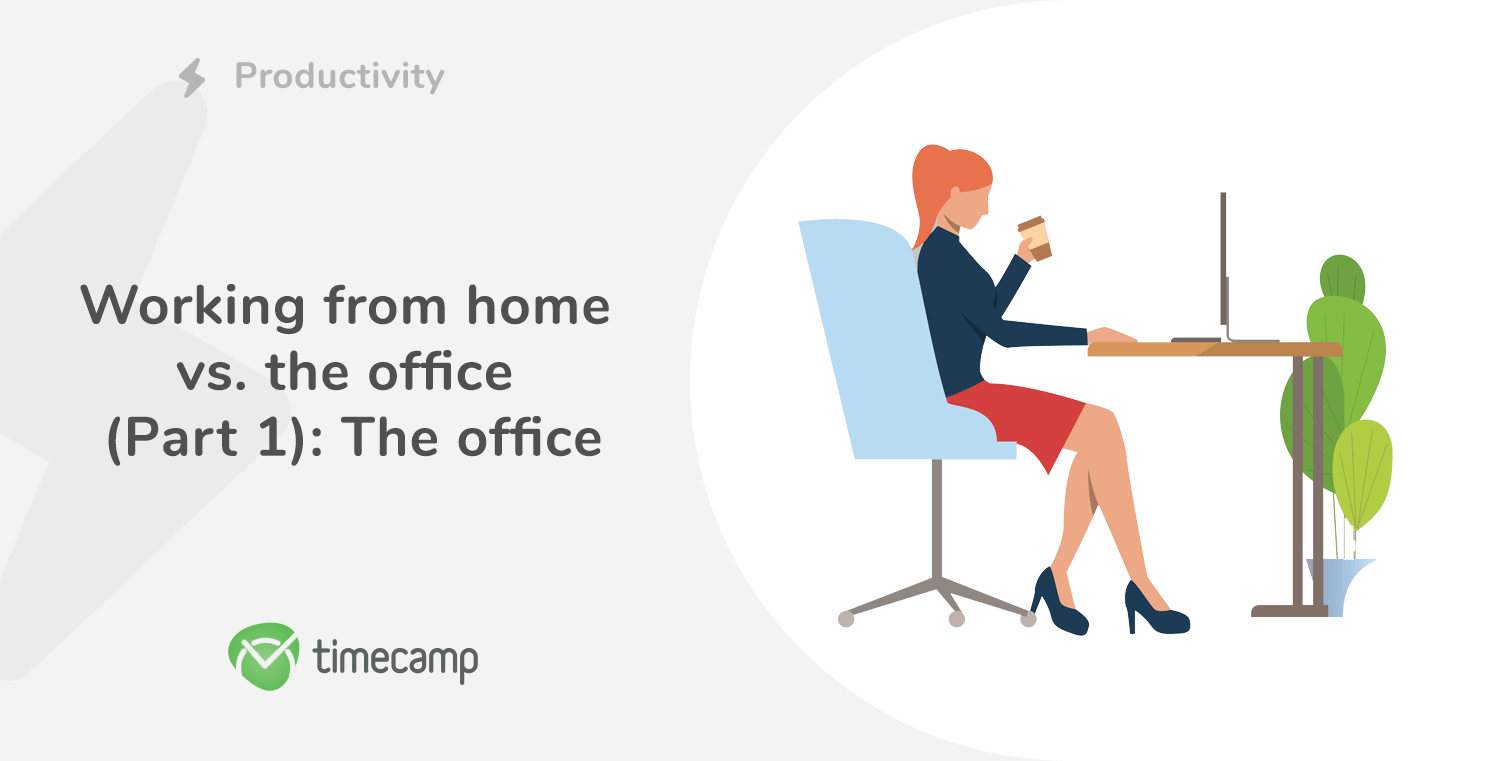 In this two-part series, we'll to dive into the two most popular working environments: working from home and working at the office. While companies all around the world are more eager to welcome the idea of remote work, these two types of settings have their share of differences. To get a better idea which one might be best for you, read the full article.
This is part 1: The office.
Some might say that working at the office is considered to be the global standard for work life. To be fair, if it wasn't some truth to that, we all would probably be working from home.
So let's dig into the pros and cons of working in the office.
Ready, steady, go!
Pros
Much easier communication
Of course, in this day and age, it's far easier to do remote work thanks to tools like HeySpace or Google Meet. Additionally, project managers have a far easier job when working with a remote team that uses modern-day time tracking software. But still, many companies don't have the proper infrastructure to handle each meeting with a remote worker and maintain it in a quality manner. What's more, sometimes a one-on-one conversation can solve many issues or challenges and it doesn't require additional scheduling and conferencing.
More human interaction
We humans, to a greater degree, are social creatures. We like to be part of something bigger. And in most cases, when you're working for a company, you'll work together with a team. Being present in the office is a great opportunity to not only expand your professional network but also form new friendships. Usually, it starts off with just the little things like casually chatting while having your morning coffee and getting up to speed with game scores, latest bands to check out or TV show recommendations. I mean, that's basically how we all interact in the company kitchen, right?
Office life has become an integral part of our pop culture. Don't even get me started on the examples:
Can you imagine how many jokes, funny stories or the latest news you'd miss out on if you weren't present at the office?
Get to know what's happening
When you're at the office, you're able to catch the latest company updates, meetings and sometimes even alarming news first, so it's definitely something worth considering when deciding on which work style suits you the most. Obviously, thanks to all of these modern tools it's easier to share updates and co-operate, but if you're that kind of person that likes to be on top of all of the news, it's always best to be in the center of the action.
Benefits of being in a work environment
While in an ideal world everyone should have the right amount of internal motivation, being around colleagues, managers and bosses also has its benefits. Workers are more likely to engage during regular meetings and brainstorms. What's more important, people have immediate access to mentorship and feedback, which also are a crucial factor in one's career development. That's why co-working spaces have become so popular among smaller companies and freelancers who want to have the 'office-like' experience, even if they're just starting up (no pun intended?)
So, now let's take a look at the opposite.
Cons
The long commute
You saw that coming, right? Who loves the dreaded daily commute to work?
See, nobody!
Did you know that in 2017 people living in the Bay Area wasted an average of 103 hours commuting to work?
Of course, some might say that it's a great time to listen to audiobooks and podcasts related to your interests/career, etc. However, some sources tell that excessive commute can impact your wellbeing. Yikes!
Exhibit A⬇️
Not always good for your health
Feeling under the weather?? That sucks, but the one thing you should definitely not do is to rush to the office!
Around 40% of surveyed workers don't want to inform their managers about being sick because they're afraid of being judged.
Bad idea. This way, you're putting the rest of the workers' health at risk. So, remember to stay in when you're feeling under the weather. It's not only good for your own health, but the rest of the office will also thank you for not showing at work 🙂
No comfy blankets
In all seriousness, some companies might require a dress code or something along the lines, but most probably, you won't be able to spend the whole day casually relaxing in your favorite armchair or sofa and wearing that pajama set you last Christmas 😉
Time to wrap up for today
Before we jump to conclusions, remember that in part 2 we'll dissect remote work and all of its pros and cons, so be sure to stay alert and up to date with our articles.
What are your thoughts about typical office hours work? Is there anything you like in particular? Or maybe there's something you really dislike and would like to avoid at all costs?
Take care!