10 Benefits of Time Tracking Software in 2023
February 13, 2023
by Guest Author
No comments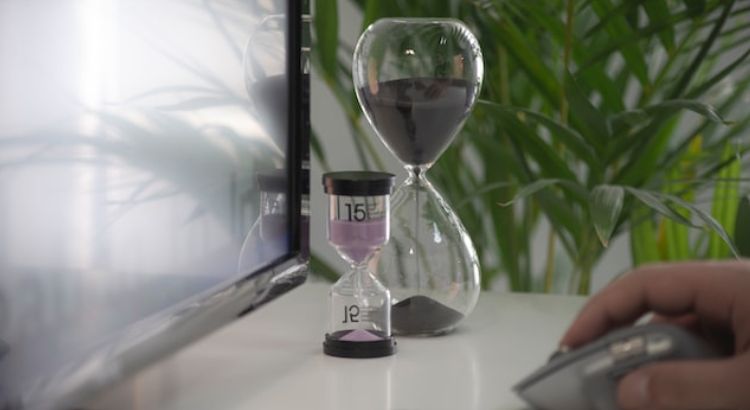 Time tracking has become a real hit in recent years. It is an undeniable savior for payroll departments that have to effectively tackle every month's salaries. And it is no small feat! But is this the only business area that can take advantage of effective time-tracking software? Certainly not! The benefits of time tracking are noticeable in many aspects of company functioning. Today, I would like to shed some light on the positive effects of time tracking from the perspective of four roles: a manager, a client, an HR or administrative body, and an employee.
Benefits of time tracking for business owners, managers, supervisors
Let us start with the VIPs of any organization – the one and only 'boss'. It can either be an owner, a manager, a supervisor, or simply someone in charge. On the highest level or the departmental level. Regardless of the level of the hierarchy, such a person is responsible for many processes and respectively, the outcomes. They have to make sure that the revenue is maximized and losses minimized. Implementing time-tracking software fits perfectly into these efforts.
Tracking project profitability
How do you know that your project is profitable? You add all the expenses and calculate whether the payment you receive covers them. You have to take into consideration such factors as:
billable hours worked on the projects (often with various employee pay rates)
expenses such as bills, perhaps mileage
cost of buying resources to manufacture the product or fulfill projects
These are only a few examples, but you know well there is a humongous number of variables you need to take into consideration to calculate the actual profit.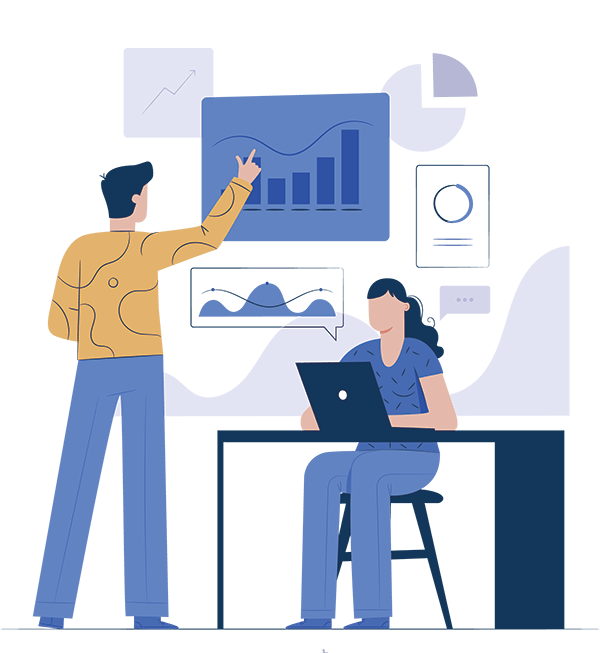 All project managers know that keeping track of all these variables is crucial. A tool that helps to record them all, and does so mostly automatically is a miracle. After all, manual recording in the Excel spreadsheet (sometimes multiple!) is almost as obsolete as writing everything down on a piece of paper.
What if the expenses for the project and the payment received only balance each other out? Or, what is worse, what if your projects cost more than the Clients pay you? Good tracking software does all the recording for you, leaving you in charge of the more important tasks, such as eliminating unprofitable projects and increasing the profitability of future projects.
Increasing business revenue
There is no need to pretend that the most important part of any business is income. Let's not sugarcoat, if it was not for the money, we could not call it a business, but perhaps, a game instead? Consequently, you not only want your business to survive. You want it to thrive and generate more income. It is the natural flow of business operations – increase, evolve, and constantly develop.
But only when everything is tracked and calculated, you – as a person responsible for boosting revenue – can see the areas where you can generate more income.
Automatic time tracking shows you time spent and how much that time costs you in proportion to what income it generated.
Should you charge the client more for the services? Does your team's time-tracking data show potential for a team performance boost? Can you take on more projects? To answer all these questions and, more importantly, make a sound decision, you need accurate data. Such data can only be provided by a time-tracking app and software. Just the tool you need to make business decisions that are viable for your profitability.
Saving time on reporting
In today's fast-paced world, it is essential to effectively prioritize. Touching base with your employees on the progress is a good practice. However, not every time it is possible. Creating a working schedule for yourself is a challenge but correlating two or even more people's schedules seems almost impossible. And doing it each time you need an update on the progress of a project? A nightmare!
What about the clients? How many times did an important client want to check on the project's progress and your team's performance? Did you always have an answer straight away? Let me guess: you needed to touch base with the project manager or supervisor.
It would be a good idea to be able to check progress and data in real-time without a third person's involvement. Professional time-tracking software ensures all data regarding projects, tasks, and billing is up to date. No more meeting scheduling and clients waiting for the data. Having instant access to the most important information is essential to the business's prosperity but also to its prestige.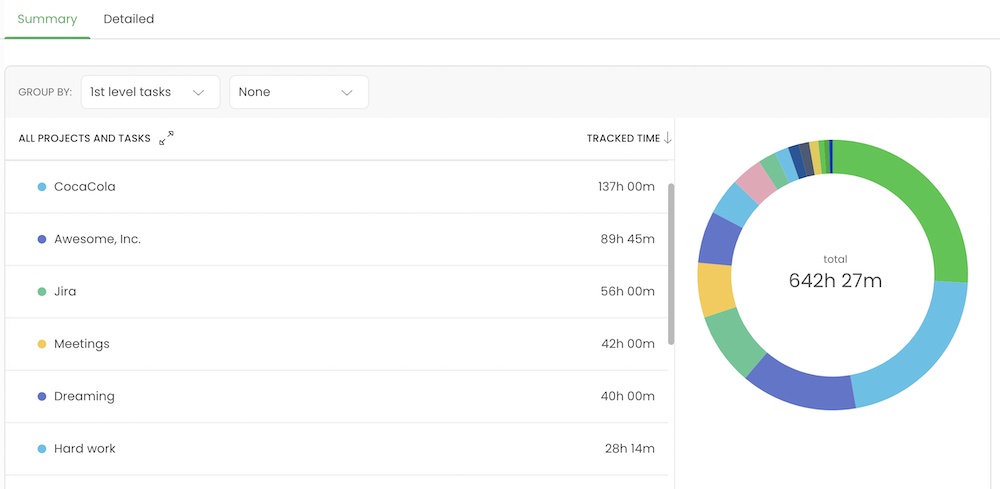 TimeCamp summary reports show visually what tasks and projects consume the most time.
Saving time and resources on attendance measurement
The recent pandemic showed us all that remote working is possible. What is more, it even stayed a part of our everyday life in the post-pandemic world. It had several spin-off effects such as the problem with attendance tracking. How are we supposed to do that effectively? When we are not in the same building, sometimes not even in the same part of a city! Clock-in and clock-out machines will not do, and timesheets cannot be verified either. That is a cause for concern not only for a control freak but simply for a responsible manager.
Time tracking software is a remedy to attendance tracking. And it even does it automatically! How? If a team member does certain tasks at work, automatic employee time tracking starts. At the end of the day, all hours worked are recorded and therefore you have proof of employee attendance. You also know exactly how much time the team member spent working, and how much time on other activities.
What about the employees who do not use a computer, such as contractors? TimeCamp Time-tracking software with GPS is the answer. Best time tracking software allows seeing the location of your employee. If you have any doubts regarding their attendance or time spent at work, simply check what the time-tracking software tells you.
How long does it all take you? Maximum a few minutes. No more time spent calculating working days, work hours, taking off breaks, days off, and holidays. You can see all employee work hours in just a few clicks.
Benefits of time tracking for the Client
All of us can probably mention a few benefits of online tracking for clients off the top of our heads:
detailed reports on the project progress
data regarding all details
billing clients accurately
However, these are mostly benefits from our perspective. What are the benefits of online tracking for the Client?
Receiving budget estimations
Money is a recurring topic. However, we cannot ignore the elephant in the room. As much as we care about our businesses, the Client does as well. They want to know beforehand how much money will they have to spend to receive the final product of your work. And this is not only about the numbers. 
A reputable company provides the breakdown of the most important costs, so the Client knows where exactly the money goes. This not only makes us look professional. It builds trust. Trust that we know our profession and what is involved in running a project. But it is also the trust in our truthfulness. Transparency is the key to building long-lasting relationships.
There is no better way to gather all the information than using data time tracking software provides. Your past project data, such as employee rates, time spent on the project, services pricing, resources expenses, and much more useful information is stored in your time tracker. Whenever a client needs a quote you can generate several useful reports and provide an accurate estimation. All data is also presented in a clear and pleasant to-the-eye graphic layout. Therefore you can technically pass it on to your client straight away. Time-saving yet still presentable.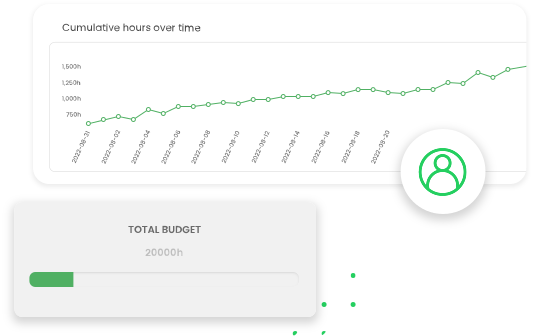 Benefits of time tracking for HR/Administration
The benefits of employee task and time tracking software are perhaps the most visible in the departments that constantly work with data. Processing payroll, calculating holidays, entitlements, and outgoing payments. All these are responsible duties requiring immaculate data processing and attention to detail. A perfect job for a tracking-time tool!
Employee and contractor payments
The end of the month is a busy period for any administrative, HR, or payroll body. Processing outgoing payments to employees and contractors is always demanding. Double-checking the hours worked, checking all the rates of pay, holidays, and breaks. Whether the contractor worked what they claimed, all assigned tasks were finished before we issue payments. Not a walk in the park, is it?
Benefits of employee task and time tracking software include full automation of payments calculations. All recorded data allows for creating a timesheet with the hours and the total payment due. All time off, and breaks are automatically subtracted. All you need to do is just glance at the totals and the process is done. Hail 21st century, hail time tracking software!
Simplifying administrative chores
Time-saving is one of the biggest benefits of employee task and time-tracking software. And working in the administration of any company, you know well that time is something you cannot waste. All the data processing needs to be controlled. From payroll management through contract preparations, expenses, budget, incoming payments, outgoing payments, Client accounts, and many more.
In a job where all tasks are administrative, time-tracking software not only helps but becomes an integral part of any office. What a human does in a few hours, a proper tool can do in a few seconds. Whether you need to bill clients or process payroll, automation is the key to a successful work life. Best time-tracking tools take a load of repetitive chores, so you can focus on more demanding tasks.
Time tracking credibility increase
Do you still track time with those machines where employees clock in when they start and finish their shifts? Then they fill out timesheets based on hours worked. Later payroll department calculates and compares whether all breaks were deducted, time records correspond to the actual time of work, etc. Oh, what joy it is!
And if you have contractors, how do you track the time they spent working for you? Do you pay them on an hourly basis? Are you sure the work they did could not be completed more quickly? So many questions and only one good answer: implementing time-tracking software like TimeCamp.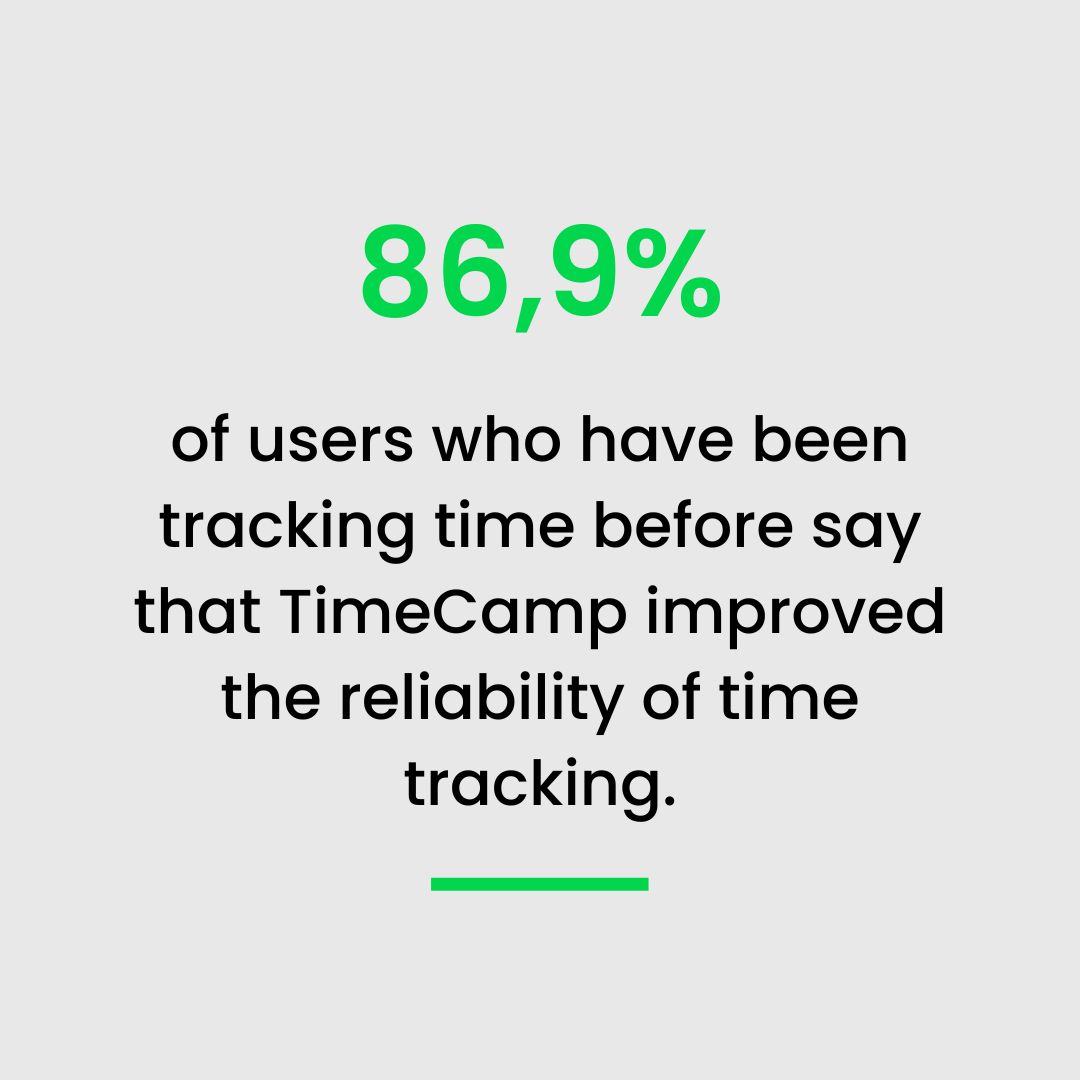 One of the benefits of online time tracking is the ability to monitor users' activity. How does it work? TimeCamp desktop app tracks time spent actively working. It also tracks idle time. This means that you will know about every break that is unaccounted for. Your remote team member spends half an hour preparing his morning coffee? A bit too long, don't you think? Especially, during the time they are paid to work on the Client's project!
Thanks to the benefits of employee task and time tracking software you can now monitor exactly how long it takes to complete specific tasks. In many companies, the managers are shocked to discover that many work hours are unaccounted for and the actual number of billable hours should be lower.
Benefits of time tracking software for an employee
Many employees mistakenly take time tracking as an invasion of their privacy. However, most often they change their mind as soon as they see the beneficial effect it has on their work-life but also work-life balance.
Seamless time tracking
Let's face it, most of us are just fed up with paperwork. And we are not talking about the administrative part of the business world (once again, chapeau bas you, guys!). Every day we focus our efforts on projects, making the best for our clients, managers, etc. However, at the end of the month, the time comes to add up all the time spent at work. And this is when the problems occur.
How much time did you spend on this project? Did you work on Monday, Tuesday, and Wednesday? Or perhaps you had a doctor's appointment on Friday and decided to finish up on Saturday? Or maybe it was last month, after all?
This is where you, as an employee, can also enjoy the benefits of online tracking. Any of the above questions can easily be answered within seconds thanks to TimeCamp. All your work activity is recorded, not only helping you to submit timesheets but also to calculate the expected profit. No more time wasted trying to figure out what on Earth happened three weeks ago. Leave it in the hands of TimeCamp!
Work-life balance
Are you the type who gets so drawn into work that they forget about the whole world? Or perhaps you do overtime without even realizing it? What about taking breaks? Do you track those?
A good time-tracking software, like TimeCamp, will help you identify where you make mistakes that may affect your work-life balance. Seeing 30 hours of overtime at the end of the month may shock you but most importantly, may help you get this in check. Perhaps it is time to ask your boss for help or at least a pay rise. Possibly both!
On the other hand, you might be the type who thinks they work hard but at the end of the month, it is not reflected in the work hours. Or maybe you do not meet the deadlines? TimeCamp will identify the problems. This is also a good lesson. Think about what stops you from being productive and how you can work on it. It may be a simple thing as too many apps or a social media break that lasts too long. It is a good chance to improve before the manager notices!
Are there more benefits of time tracking with TimeCamp?
The thing about TimeCamp time tracking is that it has so many functions, that you never know which one happens to be the most beneficial for you. We constantly hear different stories from satisfied customers. One of them told us that thanks to TimeCamp monitoring he once remembered about his wedding anniversary, as TimeCamp recorded the gifts' website he visited a few weeks before. And what are your favorite benefits of time tracking with TimeCamp? Let us know in the comments!