HeySpace – TimeCamp's New Communication And Project Management Tool!
May 3, 2018
by Kate Kurzawska
5 comments
HeySpace – TimeCamp's New Tool Is Here!
At TimeCamp we know the importance of solving problems efficiently. As a team of people who want to deliver the best product to our customer, we often meet multiple challenges. And facing them with the positive attitude and creativity stimulates us to create an even better version of the product. Yet such challenges sometimes work as an inspiration to create even more!
Our company uses a variety of tools to enhance work. Of course, each of us has his or her personal preferences when it comes to using them but we all communicate on Slack and create tasks in, for example, Trello to be able to easily manage projects and always meet deadlines. But that wasn't enough for us and we needed something more fluid. That's why we created HeySpace and we want to share this great news with you!
What Is HeySpace?
Internal need for a tool which would allow communication and managing tasks at the same time pushed us to create HeySpace.
To put it simply, HeySpace is a tool for easy and fast communication in which you can create tasks based on your conversations! And even though you have separate chats, all channels are correlated to improve task management.
Moreover, in HeySpace you can import tasks from the software you are already using, such as Trello, todoist, Jira, Wrike, or any other tool.
And here's what you can do in HeySpace:
Send a message and see if people read it. Just like in Facebook Messenger!
If somebody says something important, you can make a card out of it and it will move to the cards list. All that with just one click.
You can collaborate on the card by chatting with co-workers, writing rich text documents, tagging, marking progress, or setting due dates.
When the task is finished you can see the card name crossed out. You also get notified about it.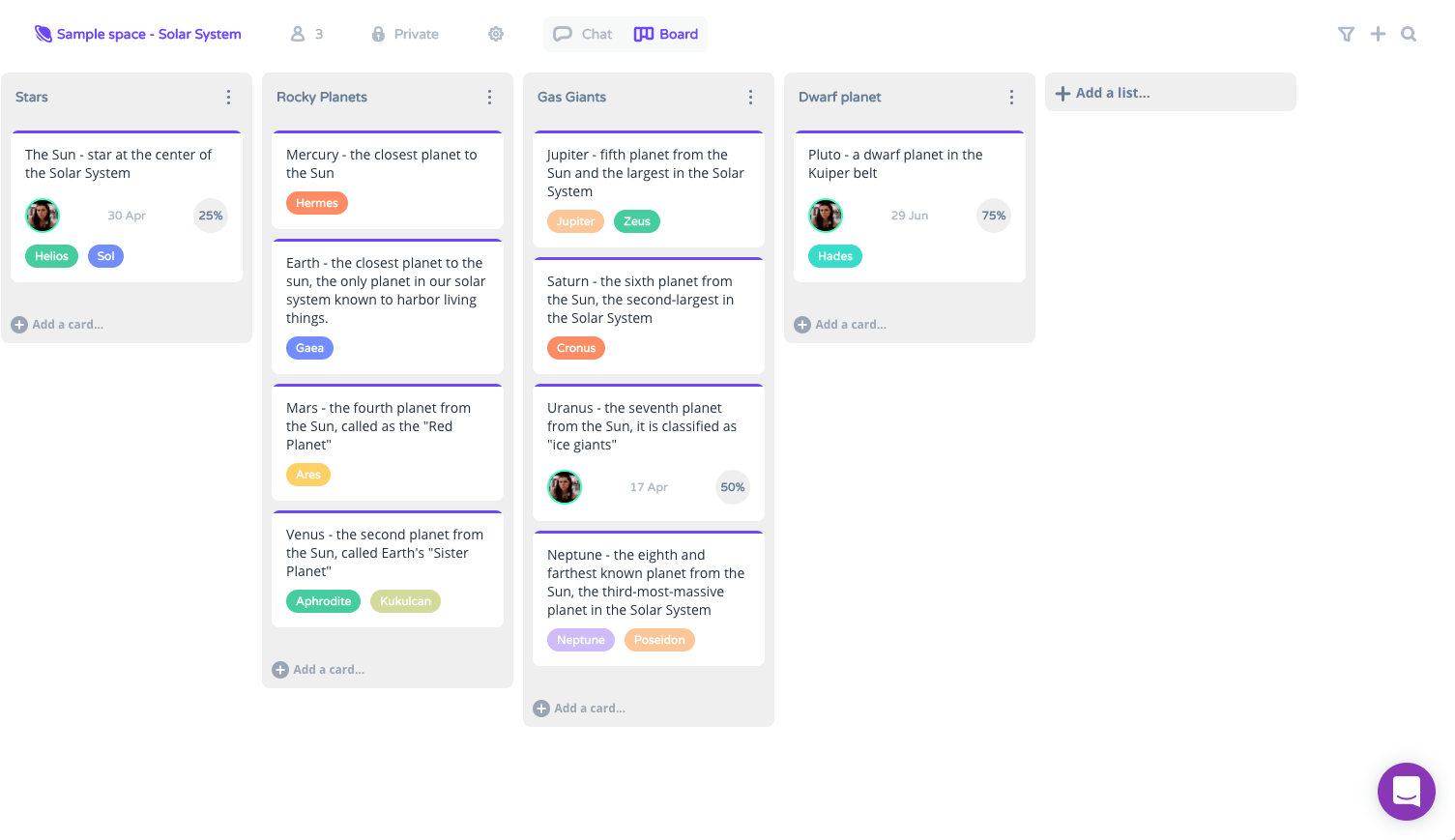 Why Use HeySpace?
HeySpace will work out for everyone who needs fast communication channels and a tool which would help in managing tasks almost simultaneously. Additionally, it helps to keep track of all tasks with the feature of sticky notes board.
The tool is perfect for small and medium-size companies as well as larger organizations whose aim is to improve internal communication and enhance collaboration between teams. If you're looking for team and task management tool incorporated into communication app, HeySpace is the right thing to use!
Don't waste any more of your time switching between apps trying to communicate with your team and manage projects at the same time! Take communication in your team to a next level and click HERE to register at HeySpace today!